#MSSen races set for November – Here are the candidates:
US Senate General Election:
Roger Wicker (republican – incumbent)
Democrat (David Baria)
Shawn O'Hara (reform party)
Danny Bedwell (libertarian party)
US Senate Special Election:
Tobey Bartee
Mike Espy
Cindy Hyde-Smith (incumbent)
Chris McDaniel
Mississippi Democrats choose Baria in #MSSen runoff
David Baria: 58%
Howard Sherman: 42%
Baria won despite having a fraction of his opponent's campaign funds.
Baria, a state representative from Bay St. Louis backed by many establishment Democrats across the state, will face Republican Incumbent U.S. Sen. Roger Wicker in November.
"I'm very appreciative of everybody who got back out to the polls again just three weeks after the June 5 primary," Baria said late Tuesday night. "I'm just very grateful for what I would consider to be a team win."…
…Espy said he watched the runoff election results from Washington D.C., where is attending fundraisers for his senate campaign.
"I wish him well and I look forward to sitting down with him," said Espy, who did not endorse a candidate in the runoff.

Incumbent Roger Wicker released this statement shortly after Baria's win:
"Congratulations to David Baria on his win in the Democratic run-off.  Gayle and I look forward to seeing him on the campaign trail. We will continue traveling the state, working to earn votes, and communicating our record of conservative accomplishments and a vision for our nation's future that reflects our Mississippi values."
Sherman was accompanied by his wife, Sela Ward. He told Newscenter 11 he believes there was a lot of unnecessary mudslinging going on in this election and that many of the facts were misconstrued or completely wrong. He didn't say who he was supporting in November, but said for a fact, it would not be Republican Sen. Roger Wicker. Sherman says he loves Meridian and Mississippi and will strive for those he represents in the future.
"I hope to continue to offer creative solutions because that's what I've done my whole life. I was hoping to do it as a senator. You have tremendous power and view from above in Washington," Sherman explains. "It didn't work out, but we're not going anywhere. This is where we live. This is where we love."
When asked about a future career as a politician, Sherman says he isn't sure. His wife, Sela Ward, says he should pursue it and that he would make a great one.
WJTV – Howard Sherman loses to David Baria in Democratic runoff for U.S. Senate
#MS03: Republican choose Guest over Hughes in runoff to replace Congressman Harper
Michael Guest: 65%
Whit Hughes: 35%
WJTV – Michael Guest victorious in Republican runoff
WJTV – Whit Hughes reflects on campaign, congratulates Guest
Gov. Bryant, Lt. Gov. Reeves congratulate Guest
Congratulations to my friend @GuestCongress on his victory tonight in the Republican Primary for the 3rd Congressional District. He will make a great congressman.

— Phil Bryant (@PhilBryantMS) June 27, 2018
Great job @GuestCongress. Congratulations! https://t.co/kJJffxlxds

— Tate Reeves (@tatereeves) June 27, 2018
Who will Gov. Bryant appoint to replace Pickering as State Auditor?
State Auditor Stacey Pickering announced this week that he is resigning to become the next director of the Veterans' Affairs board.  Gov. Phil Bryant will be tasked with filling this seat but has not given any indication as to who he may be considering.
Early speculation around the Capitol and in political circles across the state has seemingly centered around two state senators: Josh Harkins and Michael Watson.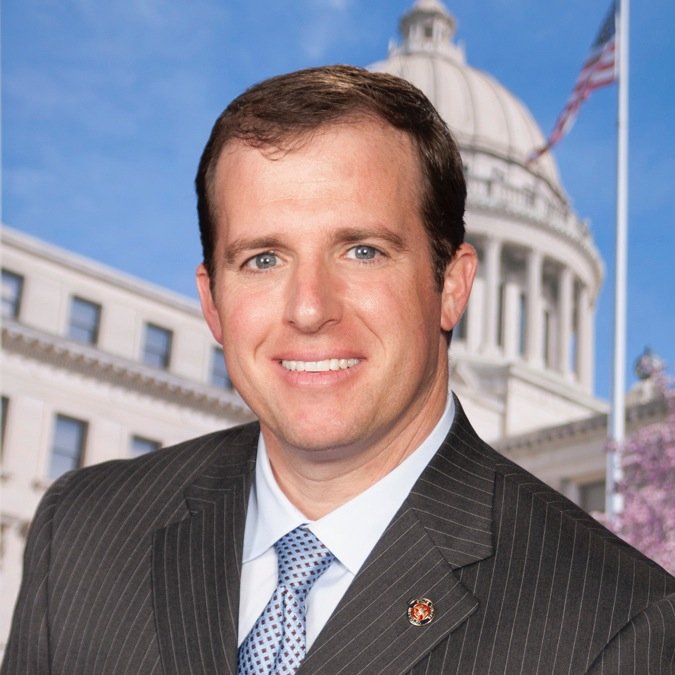 Harkins represents District 20 in Madison and Rankin Counties, and would not have to go far to fill the post.
Watson, on the other hand, would likely have to uproot his family in District 51 in Jackson County to make the move from the Coast to the Capitol City.
Given that the Governor has close to three weeks before Pickering makes the transition, expect vetting to be in full force in short order, and expect other names to emerge as the rumor mill churns.
U.S. Sen. Roger Wicker says he has discussed with President Trump's administration a replacement for retired 5th U.S. Circuit Court of Appeals Judge Grady Jolly, who left the bench almost nine months ago.
"I have discussed the vacancy with President Trump and other members of the administration," Wicker said in a statement. "The president is listening, asking the right questions, and is giving this nomination thoughtful consideration. I hope he will announce a decision soon."…
…Names mentioned as possible replacements for Jolly include state Supreme Court Justice James D. Maxwell, a former state Court of Appeals judge and former assistant U.S. attorney; State Court of Appeals Justice Jack Wilson, appointed to the court by Bryant in 2015, and U.S. Southern District Chief Judge Dan Jordan,  appointed federal judge by then-President George W. Bush in 2006.
It may be that McDaniel's greatest enemy is not the establishment but the current political mood. With Donald Trump in the White House, the grassroots revolt that began with the Tea Party and culminated in the 2016 presidential election has lost much of its impetus. The wreckage of the insurgency can be seen not only in the failed campaigns of McConnell antagonists Roy Moore and Don Blankenship, who finished a distant third in West Virginia's Republican Senate primary, but in the anti-establishment campaigns that didn't materialize. President Trump, apparently seeing advantage for his agenda in Republican unity, has been discouraging would-be insurgents, such as Danny Tarkanian in Nevada, and endorsing establishment figures, like Mitt Romney, who were once his targets….
…Just a few months ago, Steve Bannon, Trump's former chief strategist and a prime instigator of the populist insurrection, promised to challenge nearly every Senate Republican facing reelection this year, with Chris McDaniel playing the marquee role. Bannon remains a McDaniel enthusiast. "You need McDaniel desperately because very few of them understand, much less agree with, Trump's program," Bannon says of the Republicans in Washington. "McDaniel has a quality you can't coach—courage. It's why he is needed in the Senate in particular."
But circumstances have also forced a reassessment of Bannon's priorities: Saving Trump's agenda takes precedence over battling the Republican establishment. "We are now in jeopardy of losing both houses—with catastrophic consequences," he says, noting that if the House passes into Democratic hands, Trump may well be impeached.
"The Trump supporters on Capitol Hill have known this for awhile and understand we don't have the margin for error because of where the establishment put the president," Bannon says. "This is why the Freedom Caucus and others put so little emphasis on primary challenges. Trump needs to survive the onslaught of 2018. For this movement there is no higher priority."
WLOX – MGCCC Bryant Center dedicated at Tradition
WLOX.com – The News for South Mississippi
Bryant, Hosemann welcome Margaritaville expansion on Gulf Coast
Good day for the Gulf Coast and our State. Margaritaville's proposed $140 million investment in Biloxi will mean more jobs for our residents and more attractions for visitors. A great reason to spend one more day on the Mississippi Gulf Coast! pic.twitter.com/PCSfI8KXMC

— Mississippi SOS (@MississippiSOS) June 26, 2018