McDaniel parted ways last month with consultant Rick Tyler — an MSNBC political analyst who has made frequent television appearances since the election criticizing Trump as insufficiently conservative — over his lack of support for Trump. Pressed on the fact that Tyler's position couldn't have possibly come as a surprise, McDaniel said he "thought he would come around to my way of thinking." Tyler declined to discuss his split with McDaniel…
…But at this point, his candidacy largely elicits a shrug from Hyde-Smith supporters, many of them the same people who just four years ago had to move mountains to reelect Cochran. Hyde-Smith's internal polling from this week, per a source who has seen the poll, found her functionally tied with Espy and leading McDaniel by 10 points. Her lead over him has grown since a May internal poll, per the source.
"As far as Sen. McDaniel goes, you get the sense that there's sort of more heat than light there," state Rep. Cory Wilson told BuzzFeed News.
Shad White said he is asking for $100,000 dollars less from the Legislature to run his department.
His office will also undergo a new compliance audit.
He said he's also working to improve cybersecurity and will soon be adding a new feature to the state auditor's website dealing with department transparency.
Gov. Bryant signs MOU between Panama Canal Authority and Tennessee-Tombigbee Waterway
Proud to sign an MOU this afternoon forging a partnership between the Panama Canal Authority and the Tennessee-Tombigbee Waterway. This alliance, combined w/ one between the Canal Authority and the Port of Gulfport, will promote the all-water route between Asia and the Midsouth. pic.twitter.com/32JMm3KTpp

— Phil Bryant (@PhilBryantMS) August 7, 2018
Mississippi Power Co. customers will see electricity rates go up about 9 percent starting in September.
The state Public Service Commission on Tuesday approved general rate increases as well as specific increases tied to environmental compliance costs. The unit of Atlanta-based Southern Co. will collect about $77 million more through the end of 2019, in a settlement meant to cover 2018 and 2019.
A residential customer who uses 1,000 kilowatt hours of electricity per month would see bills rise from $128 monthly to more than $139 monthly.
The Mississippi Public Service Commission Tuesday revoked the certificates of seventeen telecommunications companies to do business in the state.
The PSC says all failed to submit annual reports detailing their business activities in Mississippi.
Northern District Public Service Commissioner Brandon Presley said that the businesses were not only out of compliance with the PSC, but also the Secretary of State's office.
WCBI – Presley forms Citizen Task Force to highlight lack of cell service and high speed internet in region
Congressman Kelly presented with prestigious military honor
The MSNG is proud to congratulate our Brig. Gen. Trent Kelly! He was awarded the prestigious Gold Order of the de Fleury medal during the U.S. Army Engineer Regiment's annual Engineer Castle Ball in Crystal City, Va., Aug. 3, 2018! @RepTrentKelly pic.twitter.com/idLyTSdOU5

— MS National Guard (@nationalguardMS) August 6, 2018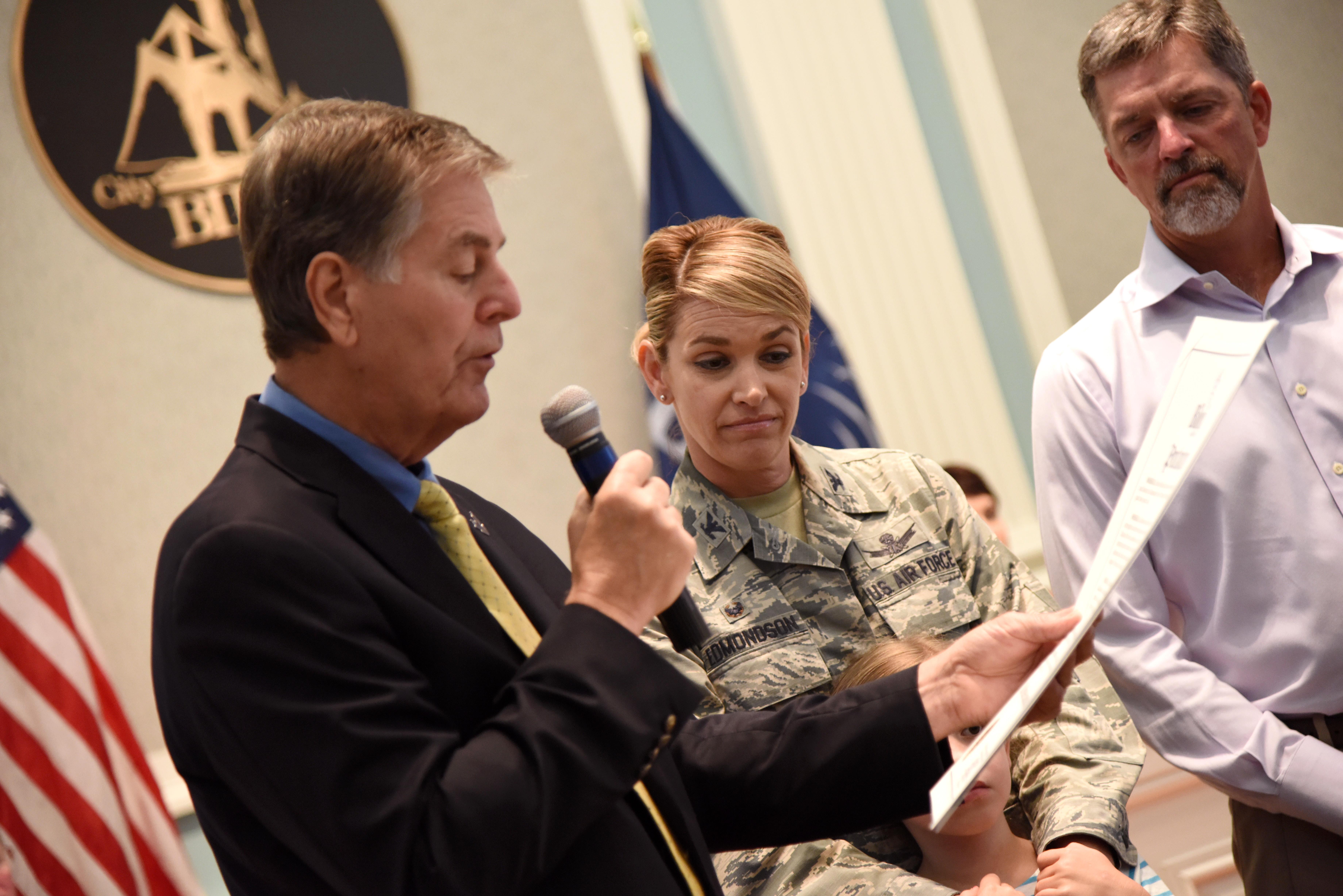 Biloxi Mayor Andrew "FoFo" Gilich made a special visit to the Pentagon Tuesday morning to see a former Keesler Commander promoted in a new leadership role with the new U.S. Space Force.
Newly minted Brig. Gen. Michele Edmondson was all smiles as she posed with Gilich after her promotion ceremony. Edmondson served as Commander of the 81st Training Wing at Keesler for 2 years until June 2017 when she became Executive Officer to the Vice Chief of Staff of the U.S. Air Force.
Voters approved a Jackson Public Schools bond referendum on Tuesday.
With votes still being counted late Tuesday night, the $65 million bond issue had reached the 60 percent needed to pass.
Sen. Wicker calls for flood insurance reforms
Reforming the National Flood Insurance Program is key to keeping it solvent and improving service. Read more about my proposals to reform the NFIP here ⬇ https://t.co/FJwUA25yPD

— Senator Roger Wicker (@SenatorWicker) August 6, 2018
WJTV – Mississippi State announces free tuition for students serving National Guard
State Rep and House Transportation Chairman Busby posts on long waits at DPS office
Mayor Mario King presented what he calls the 'lean model' to the board of aldermen, reviewing budgets for the police department, fire department, human resources and executive and legislative positions.
During that meeting, he proposed raising his salary and the salary of board members.
"I tell people all the time, I'm one of the least paid mayors in this form of government. I run the city, and so I wanted a raise when I first came in. But I wanted to see where we were," King told WLOX News Now, "and so I think now is the time to do that. And I don't want the board to be ashamed of looking at their salaries either. I put them on committees. I let them lead different programs. They've been very involved, and so we need to be able to compensate people."
He also told WLOX four non-essential positions will be cut, and they'll be looking at ways to decrease salaries for others.