Gov. Bryant issues the call for the Special Session
Using revenue generated by internet sales taxes, sports betting, electric and hybrid vehicle user fees and a state lottery, the Mississippi Infrastructure Modernization Act will provide more than $200 million annually to meet Mississippi's infrastructure needs. pic.twitter.com/qKgA5B8fSW

— Phil Bryant (@PhilBryantMS) August 21, 2018
Because of political pressure to do something about highways, there's a scheme that will appear to help. It would scrape up a pile of iffy money (from sports betting, increased collections on out-of-state retail sales and from a lottery, for example) and take real money away from the general fund. It wouldn't fix our highways, but it might push the problem past next year's elections.
Also, the state treasury is getting money to make up losses it suffered because of the BP oil spill. Instead of using this one-time money for something long-lasting, there's a frenzy to spend it on politically expedient schemes.
Oh, and there's a plan to take even more money out of the general fund and send it to cities and counties, purportedly for infrastructure. Local governments need help, but this is inadequate, and the general fund can't afford it.
Sen. Hyde-Smith comments on Trump rollback of Obama climate rule
America's energy independence from foreign sources is a step toward viable, long-term economic growth, and today, @realDonaldTrump paved the way for production that will give us a competitive edge! https://t.co/1dSlHQzevl

— Cindy Hyde-Smith (@cindyhydesmith) August 21, 2018
WJTV – Poultry farmers voice concerns at Senate Agriculture hearing
#MSSen: Wicker releases ad – 'The Veteran'
Roger Wicker understands the need to keep our promises to veterans and rebuild our military because he is a veteran himself. #Veteran #Mississippi #MSSEN #MAGA pic.twitter.com/nusxtm8VHd

— Roger Wicker (@RogerWicker) August 20, 2018
#MSSen: Baria jabs at Wicker over healthcare, Trump
Here's a little bit of background about why I got involved in politics. Let's #moveMississippiforward together!https://t.co/jRCtYd0hge

— David Baria (@dbaria) August 21, 2018
How long until @SenatorWicker-clearly opposed to obstruction-calls for POTUS45 to answer to the American people?

Trick question …. we know Rubber Stamp Roger would never do anything that involves taking on GOP leadership. #BariaforMississippi #mssen https://t.co/Bo7lL6NxSB

— David Baria (@dbaria) August 22, 2018
In less than a week, a newly appointed judge has removed himself from hearing former longtime Madison County Supervisor Karl Banks' challenge of his 2015 reelection loss by two votes.
Last week, state Supreme Court Chief Justice William Waller Jr. filed an order naming Stephen Simpson as substitute judge in the case. On Monday, Simpson filed a recusal order, but didn't give a specific reason.
Simpson said he "finds that there are certain grounds which would require that he be disqualified from further participation in the case."
State Auditor White comments on Biloxi School case
Thanks to our investigators who built and worked this case. Good to see justice done in Biloxi. https://t.co/HWBURIeRAM

— Shad White (@shadwhite) August 21, 2018
WDAM – 'Promote the Vote' kicks off in Hattiesburg
WDAM-TV 7-News, Weather, Sports-Hattiesburg, MS
We launched 2018 #PromotetheVote from Hawkins Elementary and Hattiesburg High today. With historically low turnout at the ballot box, it's more important than ever to teach our children about civic engagement. Thanks to Sup't Dr. Williams, Principal Mikell, and Principal Boney. pic.twitter.com/0jLPljlcwa

— Mississippi SOS (@MississippiSOS) August 21, 2018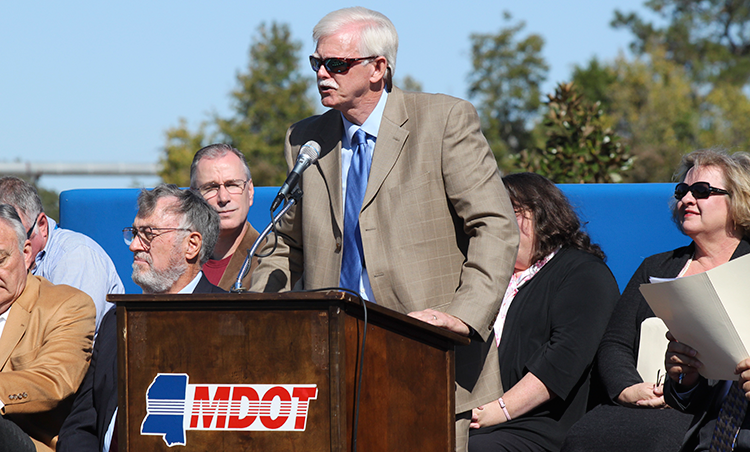 Southern District Transportation Commissioner Tom King hopes MDOT will get some money from the special session later this week.
Gov. Bryant has called a special session beginning Thursday to fund repairs to roads and bridges.
King was in Oak Grove Tuesday, speaking to Forrest-Lamar Republican Women.
He hopes lawmakers will find some funds for his agency.
"We need it badly for repairs," said King. "Right now, we don't have enough money to maintain what we have and certainly, we're counting on the Legislature this special session to take care of all of our needs, not only for the state, but the locals also."
State Sen. Wiggins: Governor's special session call does not include BP
The official call of Gov. Bryant DOES NOT include BP. (His proclamation is in the comments below.) Myself, Senators from the Coast and in fact the whole MS Senate stands… https://t.co/8eH4Gw8Vsq

— Sen. Brice Wiggins (@bricewigginsMS) August 22, 2018
WLOX – Coast leaders hope to solve BP settlement issue at special session