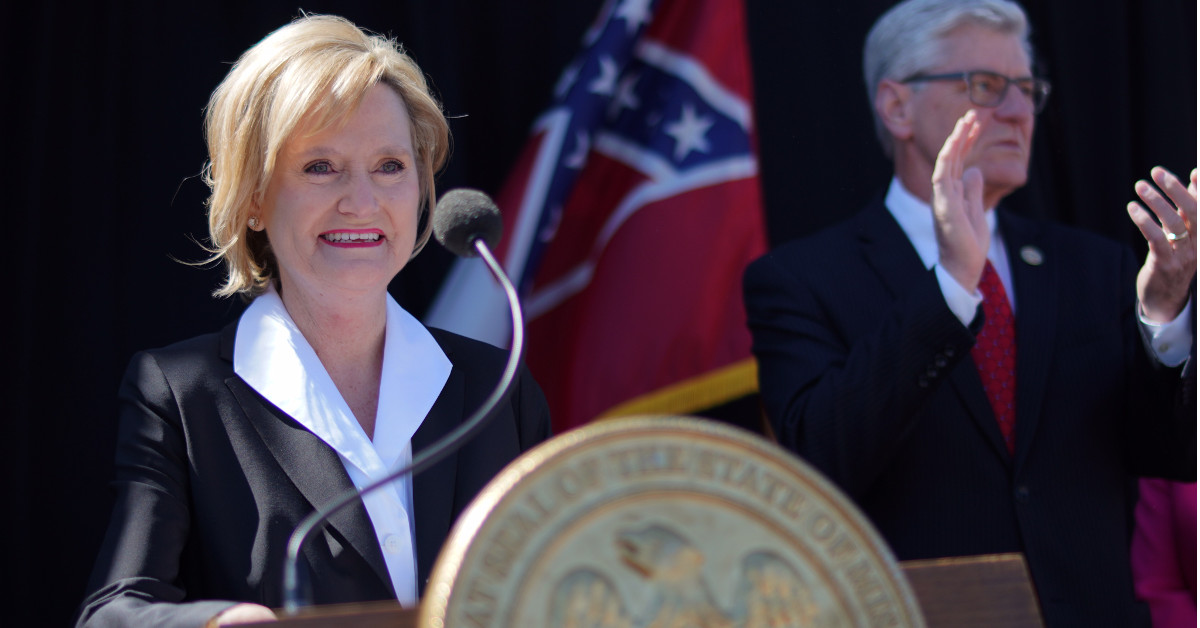 A Republican U.S. senator who's seeking re-election in Mississippi says she questions the timing of a sexual misconduct allegation against Supreme Court nominee Brett Kavanaugh.
Sen. Cindy Hyde-Smith has said for weeks that she will vote to confirm Kavanaugh, who is currently a federal appeals court judge. Hyde-Smith is endorsed by President Donald Trump, who nominated Kavanaugh to the nation's highest court.
The Senate Judiciary Committee is scheduled to hold a hearing Monday about an allegation from Christine Blasey Ford, who says Kavanaugh sexually assaulted her when they were teenagers during the early 1980s. Kavanaugh, 53, vehemently denies the accusation.
Democrats have vowed to shake things up in the House, and they will make life more difficult for Trump as he ramps up his own campaign for reelection in 2020...
…Bennie Thompson, Homeland Security Committee
Thompson, 70, is the longest-serving black elected official in Mississippi and its House delegation's lone Democrat. Thompson came to Congress in 1993 after winning a special election to succeed former Rep. Mike Espy (D-Miss.), who was appointed secretary of the Department of Agriculture by President Bill Clinton. Thompson is the only Democrat to chair the Homeland Security Committee; he led the panel in 2007 until becoming ranking member in 2011. As chairman again, Thompson would prioritize defense against election interference and oversight of the Department of Homeland Security.
With the Homeland Security gavel in Thompson's hand, the White House can expect extensive oversight over Trump's border wall project, ICE and immigrant detention programs.
During a broadcast of "Morning Joe" on Friday, Sept. 14, McDaniel asked where African-Americans are after, "a hundred years of begging for federal government scraps."
McDaniel said Thursday he isn't worried about any outrage caused by the comments and says he was serious about what he said.
"Our state cannot be economically prosperous if we're depending on the federal government to prop us up," McDaniel said. "Our people can't be economically prosperous if we don't have jobs. Put simply, we want jobs, not welfare. We want jobs, not corporate handouts. Now is the time for us to make our way in Mississippi without the same old economic system. No, I stand by every word. I'm not backing down, not a chance. I'm here to fight for what I believe in. I'm not backing down."
One columnist recently said McDaniel's "star is fading" and that for Espy to have a shot, McDaniel "must poll enough votes to finish third and force a runoff between Hyde-Smith, who is likely to finish first, and Espy, who is likely to finish second."
Hold on a minute. I don't believe those chickens have hatched yet. Misunderestimating McDaniel at this point could prove to be very bad strat-e-gery, to use another Bushism.
They're misunderestimating the amount of work McDaniel puts into his field game. He's one of the hardest campaigning Mississippi politicians to ever kiss a baby or shake a hand. McDaniel will be out-spent, but he won't be outworked.
And they're misunderestimating the passion and fervor — and perhaps the size — of his base (sometimes, of course, they may be a bit too fervent).
In a special, mid-term election with a likely runoff on the Tuesday after Thanksgiving, getting voters to turn out will be the name of the game. Having a base of voters who chew nails and spit tacks is an advantage. And they appear to just get more fired up when he says things that appear daft, mean, misogynist or racist to others — reminiscent of another current politician.
WHPM – Congressman Palazzo visits Laurel
#MSSen: MSGOP – Espy too corrupt for Clintons, too liberal for Mississippi
Mike Espy said he hopes voters remember him…so do we. Anyone who is too corrupt for the Clintons is too liberal for Mississippi. https://t.co/y9PVVqYbCS

— Mississippi GOP (@MSGOP) September 19, 2018
WTOK – Attorney General Jim Hood speaks to Meridian civic leaders
MS College presents Congressman Harper Order of Golden Arrow award
Order of Golden Arrow Award Goes to Congressman Gregg Harper via @MissCollege https://t.co/fyCalDwzfU #MCNews @GreggHarper

— Tracey M. Harrison (@TraceyMHarrison) September 18, 2018
Mississippi's state Board of Education has delayed A to F ratings for schools and districts until October, citing discontent with the proposed ratings.
  
The unapproved numbers show more school districts would fall than would improve, even though test scores and high school graduation rates improved statewide.
  
Board member Johnny Franklin of Bolton spearheaded the delay Thursday, saying he hadn't had enough time to study information and had heard too many concerns.
  
The board is approving a move to reset the high school grading scale.