The state's crowded nonpartisan Senate election to replace Thad Cochran has dominated much of the midterm landscape, drawing bylines from national media outlets and commentary from influential data wonk Nate Silver.
Lost, at times, in the hubbub is the state's regularly scheduled U.S. Senate race featuring 11-year incumbent Republican U.S. Sen. Roger Wicker and challenger state Rep. David Baria, a Democrat from Bay St. Louis.
To date, Wicker has declined Baria's multiple invitations to participate in a debate, but there's been verbal sparring from afar…
…With a $3.2 million war chest and a 30-year precedent of Mississippians sending Republicans to Washington, Wicker enters the home stretch with some advantages.
But Baria, citing a recent NBC poll, holds there's still potential for a fight.
Forty-three percent of those surveyed supported Wicker, giving the incumbent a 14-point lead over Baria.
But Baria found a silver lining. Black voters, he said, were underrepresented in the poll.
U.S. Senate hopeful @dbaria makes campaign stop in McComb, says changing state flag a good way to reduce state's "brain drain" of young people. https://t.co/ELgI3VHnOL pic.twitter.com/kYllnNyEV1

— Enterprise-Journal (@TheEJlive) October 18, 2018
WASHINGTON EXAMINER – Year of the Woman, 3.0?
As a dad who counted it a blessing during the earliest days of the
#MeToo
movement to have additional conversations with my teenage daughters and son about sexual harassment, respect, honor, trust, love, and good judgement, I think what some Democrats have done to try and co-opt this important and legitimate conversation in our society as a political weapon shows they care more about their power than they do about women or the vulnerable.
I'm greatly encouraged that at this critical moment we have seven women – Rep. Marsha Blackburn, Rep. Martha McSally, Leah Vukmir, Karin Housley, Susan Hutchison, Sen. Cindy Hyde-Smith, and Sen. Deb Fischer – who could very well be in the U.S. Senate come January championing life, caring for the vulnerable, and fearlessly pushing back on the political hypocrisy and shameless attacks threatening families and indeed our republic.
#MSSen: Overnight, McDaniel dismisses "new attack ad" by Victory Fund PAC as "all lies"
The PAC funded by mega Clinton donor, Sean Parker, has a leaker — Mississippi Victory Fund is the PAC. In the next few days, they will hit me with a new attack ad. Typical leftist mindset. The politics of personal destruction. All lies!

— Sen. Chris McDaniel (@senatormcdaniel) October 19, 2018
#MS03: Guest talks with Gallo on impact of election
This morning on the @paulgalloshow I talked about the decision voters will have to make on November 6th-a conservative Congress or a House of Representatives led by Nancy Pelosi. Listen at the link below at the time mark 36:00 to hear more.https://t.co/zkhtm5DAQM

— Michael Guest (@GuestCongress) October 18, 2018
Gov. Bryant says Ole Miss professor urging harassment of senators "troubling and disappointing"
This is troubling and disappointing to see from one of our university professors. There is no place in a civilized society, and particularly on a college campus, for urging individuals to harass anyone. https://t.co/EUVvfpyBkA

— Phil Bryant (@PhilBryantMS) October 18, 2018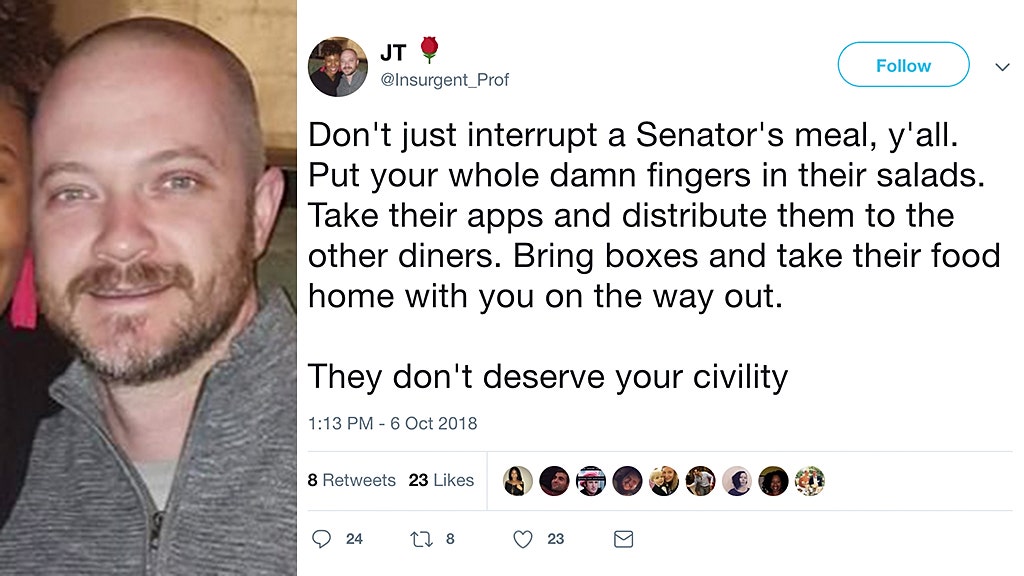 An assistant professor at Ole Miss has been criticized after a posting to social media calling for people to harass senators in public.
James Thomas, who works for the school's Sociology department, posted on Twitter, saying: "Don't just interrupt a Senator's meal, y'all. Put your whole damn fingers in their salads. Take their apps and distribute them to the other diners. Bring boxes and take their food home with you on the way out. They don't deserve your civility."…
…Ole Miss Chancellor Jeff Vitter condemned the comments made by Thomas, saying his statement "did not reflect the values articulated by the university, such as respect for the dignity of each individual and civility and fairness."
"While I passionately support free speech, I condemn statements that encourage acts of aggression," Vitter wrote.
Trustees of the state College Board voted unanimously Thursday to strip Ed Meek's name from the Meek School of Journalism and New Media. The academic unit is now known just as the School of Journalism and New Media.
Meek requested his name be removed days after posting photos last month of two black women in short dresses. He suggested they exemplified problems that threatened the economy of the college town of Oxford.
A total of 11 candidates representing circuit and county court, Warren County constable, state appeals court and state District 85 representative participated in the forum at the Warren County Courthouse sponsored by the Vicksburg Alumnae Chapter of Delta Sigma Theta Sorority Inc., Blacks in Government and the Vicksburg Branch of the NAACP.
Attending were District 2 Appeals Court candidates Eric Charles Hawkins and Deborah McDonald; District 85 candidates JoAnn Collins-Smith, Jeffery Harness and Tyler K. Doss, county court judge candidates Richard "Ricky" Johnson an Marcie Southerland; circuit court candidates Angela Carpenter and Toni Terrett; and constable candidates Mario Grady and Troy Kimble.
U.S. Rep. Bennie Thompson delivered a brief address before leaving for an event in Greenville, outlining his accomplishments and listing the issues affecting the state and the 2nd Congressional  District.
WXXV – Attorney General Jim Hood talks to Crime Stoppers
Senior citizens in Mississippi and other states are now protected from potential increased prescription drug prices and reduced choices that could have resulted from the merger of CVS Health and Aetna thanks to a settlement by Attorney General Jim Hood, the U.S. Department of Justice (USDOJ) and a multistate coalition.
The agreed order requires Aetna to sell Medicare Part D plans of 1.5 million people to their competitor, WellCare Health Plans, in order to move forward with the planned merger. Prior to the agreement, the Mississippi Attorney General's Office was concerned that the $69 billion merger would cause anticompetitive effects, including increased prices, inferior customer service, and decreased innovation in sixteen Medicare Part D regions covering twenty-two states.
WCBI – Improving cell phone service throughout the Golden Triangle