Representatives for Republican Senator Cindy Hyde-Smith and Democratic challenger Mike Espy have agreed to the terms and conditions for a debate.
Mississippi Farm Bureau Federation spokesman Jon Kalahar says the two candidates have agreed to their only debate of the campaign season.  Farm Bureau is a sponsor for the debate, which is scheduled for Nov. 20 in Jackson.
The debate will be broadcast on TV and on radio.
Jackson area ministers and Ward 6 Councilman Aaron Banks called for Republican U.S. Senator Cindy Hyde-Smith to apologize and resign on Tuesday.
The backlash comes after a comment Hyde-Smith made on Nov. 2 at a speaking engagement in Tupelo, where she said she was so fond of a supporter that if he invited her to a public hanging, she would sit on the front row.
Espy's best chance at winning this election always rode on the notion that a massive, historic voter turnout transpired on Nov. 6. He got that massive turnout, but it wasn't enough for an outright majority.
Expect to see national players enter the runoff fray on both sides. But since outright control of the U.S. Senate isn't on the table in Mississippi on Nov. 27, it won't be an overwhelming national effort.
Political theatrics, ominous radio ads, social media manipulation, TV ads and robo-calls aside, the one issue that Mississippi voters may well weigh more carefully in the runoff is something Hyde-Smith already has on her resume — seats on the U.S. Senate Appropriations and Agriculture committees with a seniority head-start and as part of the Senate's majority party.
Between Hyde-Smith's and McDaniel's combined Nov. 6 vote, 514,549 state voters or 58 percent of those who voted in that election have already taken a pass on the Espy campaign. That one statistic paints an honest picture of the challenge before him in the runoff.
It will come as no surprise if President Trump returns to Mississippi to laud Hyde-Smith. It could at least make things more interesting if Democrat superstars such as former President Barack Obama and/or Michelle Obama did some serious retail campaigning in this state for Espy.
From a national perspective, the stakes, of course, could be higher. While Republicans lost control of the House, their hold on the Senate was retained. The possibility had loomed that the Hyde-Smith – Espy runoff would decide control of the Senate, but Republicans will hold the Senate regardless of who wins in Mississippi.
In any event, voters will make state history the Tuesday after Thanksgiving. Cindy Hyde-Smith will be the first woman ever elected to the U.S. Senate from Mississippi or Mike Espy will be the first African-American since the years immediately following the Civil War.
WCBI – Mississippi State Auditor Update
Guest has served as a District Attorney in Madison and Rankin Counties and said the transition from a prosecutor to a legislator is going to take some time for the adjustment but he has already been hard at work getting some of his staff in place.
"Several members of Gregg's current staff, I've spoken with and they have agreed to stay on and continue their work on behalf of the people of Mississippi. I am excited to be able to surround myself with a seasoned staff that have been there with Gregg, some as many as 10 years, one lady, in particular, has been there 20 plus years. I believe this will give us a leg up when we get to Washington, over a lot of the other incoming freshman Congressman because I don't believe they will have been able to assemble a staff with the experience that we are going to have when we get up to Washington."
The Congressman-Elect said he will be flying out this week for a two-week long freshman orientation where they will be briefed on everything from office budgets to participating in a lottery to determine office space.
This week, I'm in Washington, D.C. participating in newly elected members of Congress orientation as I prepare to begin serving as your next Congressman in Jan. Follow along for updates on New Member Orientation and to see some of the familiar faces we run into on Capitol Hill! pic.twitter.com/qlTd4CBEfQ

— Michael Guest (@GuestCongress) November 14, 2018
Gov. Bryant highlights RESTORE Act project announcement
The MS Dept. of Environmental Quality announced 10 new & supplemental restoration projects today that will add approximately $37.8 million of RESTORE Act funds to the total being spent on restoration & environmental projects in the wake of the 2010 Deepwater Horizon oil spill. pic.twitter.com/aBH5gqOIwZ

— Phil Bryant (@PhilBryantMS) November 13, 2018
While disappointed, Anderson said he feels he and his staff performed exceptionally well.
"Obviously I am disappointed by the outcome," he said. "I felt like we should have performed better than the outcome, but I think we laid the groundwork for future runs. We engaged a lot of people and engaged people across party lines and I think that is something to build on.
My district was tough for a Democrat to win, so we looked for solutions that would resonate with people, no matter their party affiliation. I will continue to seek to represent the people of the 110th district across Jackson County in January. The future looks bright and we will see what 2020 holds."
WCBI – Lee County Republican Women's Club holds organizational meeting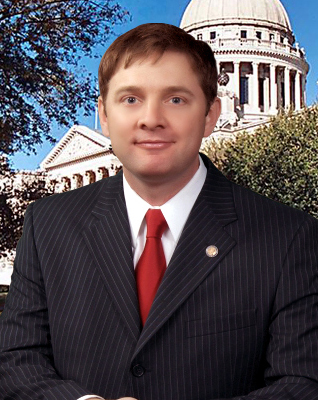 District 41 Senator Joey Fillingane hopes the state can increase pay for teachers and child protective services.
Fillingane spoke to a meeting of Forrest-Lamar Republican Women Tuesday.
He said those pay raises should go along with a balanced budget.
"If we could do a balanced budget and still be able to give our teachers and possibly social workers that work for the State of Mississippi a pay raise, that would be wonderful, that would be a great benefit to them and to the State," Fillingane said.
Fillingane also said he'll run for re-election next year.