WJTV – Lawmakers exchange heated tweets on MLK day
Gov. Bryant, Congressman Thompson exchange letters regarding shutdown
Disappointing, but not surprising. Saying no is easy. Finding solutions is hard. If you're worried about our federal workers, go find a solution. My offer to help still stands. https://t.co/0AHdN7ny4L

— Phil Bryant (@PhilBryantMS) January 21, 2019
The Republican leader of the Mississippi House is pushing a bill that he says could protect children who are victims of sex trafficking.
House Bill 571 would prevent charges from being filed against trafficking victims who are younger than 18. The minor would be taken into protective custody and counseling would be provided. Foster parents would be trained to help trafficking victims.
House Speaker Philip Gunn, a Republican from Clinton, tells the Clarion Ledger that human trafficking is happening in Mississippi, including "in the shadow of our Capitol."
Sen. Wicker leads in song at MLKJ event
Very blessed to lead a round of Amazing Grace with Pastor Randy Jones at today's celebration of Dr. King in Tupelo. #MLKday pic.twitter.com/1Tz3wH5TdP

— Senator Roger Wicker (@SenatorWicker) January 21, 2019
WJTV – Lawmakers hope to change Mississippi's testing standards
Four bills similarly seek to establish a commission to redesign the flag.
Hines filed a second bill, House Bill 433, that would let the people decide on whether to change the flag by way of a statewide special election in November 2019.
With House Bill 18, Rep. David Baria presented a design featuring a large blue star, 19 smaller stars and red and white panels.
House Bill 561, filed by Rep. Kathy Sykes, would feature a large blue star on a white field encircled by 19 similar stars and flanked by red bands.
Mississippi lawmakers say they could consider programs aimed at helping former inmates establish productive lives as they leave prison.
House and Senate committees heard Monday from the state corrections commissioner, a state judge, a federal judge, and advocates from liberal and conservative groups. Many speakers said lawmakers need to address what causes former prisoners to commit new offenses and get sent back into custody.
Hal Kittrell of the Mississippi Prosecutors Association says the state should invest in vocational training and re-entry programs.
Representative Joel Bomgar, has been an avid supporter of the medical marijuana initiative for several years and says it has been proven to help cancer patients and even leads to fewer opioid deaths, roughly 25%.
"Almost everybody seems to know somebody who could have benefited from medical marijuana or who lives in another state and did benefit from medical marijuana," Bomgar said. "When you have almost everybody in Mississippi that knows somebody, has an experience, or knows someone in another state, it just starts to make no sense to anyone that 33 states allow medical marijuana and Mississippi is one of 17 that does not."
Although the Joint Legislative Committee on Performance Evaluation and Expenditure Review found that 91 percent of parents responding to the committee's survey were satisfied with the program, evaluators cautioned that the state has no way to monitor whether students are receiving the services they need to learn. Of the 33 private schools responding to the Legislature's survey, more than a third indicated they had no special education staff, while 66 percent indicated they use public schools to provide private special education services.
"Legislators and those they represent tend to expect that programs funded by the taxpayers have a system in place to ensure that funds are spent efficiently and with positive outcomes," the report states.
Proponents for accountability say securing those answers matters in a state that despite recent improvements still trails the nation's graduation rate for students with disabilities.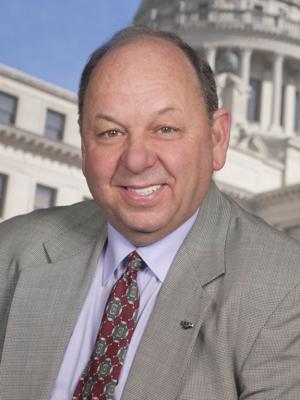 Long-serving state representative Steve Holland will face a contested Democratic primary this year.
Rickey Thompson confirmed to the Daily Journal last week that he intends to seek the seat Holland holds.
Thompson was formerly a Lee County justice court judge until the state Supreme Court removed him from office in 2015 over judicial misconduct charges dating back to 2013 and 2012. Thompson was also reprimanded in 2012 and 2008 related to other charges.
Two bills propose reducing the size of the Legislature – another issue that has been roundly ignored in the past.
The Mississippi House has 122 members and the Senate has 52. Senate Bill 2123, by Republican Sen. Michael Watson of Pascagoula, would cut the House to 70 members and the Senate to 30, starting this year; never mind that candidates are already qualifying to run, and that redistricting is always a time-consuming battle. Five Republican senators are sponsoring Senate Bill 2010, which would put the House at 99 members and the Senate at 42 beginning with the 2023 elections.
Creating a smaller Legislature might be popular talking point back home, but proposals are unlikely to find friends among lawmakers who could see their own political futures being threatened.
A proposal that's unlikely to gain traction, but for different reasons, is House Resolution 4 by Democratic Rep. Earle Banks of Jackson: "A resolution urging President Trump to agree that the press is not a threat to America, but one of the nation's greatest protectors of freedom." Reality check: Grumbling about the media has long been a popular and bipartisan sport among Mississippi politicians.
It is disheartening to see many otherwise able politicians so caught up in the language of division that they reject any and all constructive attempts to build the consensus needed to address critical issues.
Lt. Gov. Tate Reeves appears to be one of those.
Gov. Phil Bryant's director of Medicaid, Drew Snyder, told House Appropriations Committee members hospitals have serious problems with the growing number of uninsured patients and suggested "it's a fair concern to think about what's out there to lower those numbers."
Gubernatorial candidate Reeves responded by saying three times, "I'm opposed to Obamacare expansion in Mississippi." He said nothing about addressing the problem, just used the divisive Obamacare" word to stigmatize the issue.
Conservative first-term lawmaker Robert Foster, a Republican from Hernando who is also running for governor, took a more constructive approach: "I do not personally support traditional expansion of Medicaid like they've done in some other states," he told the Clarion-Ledger. "But what I do support, and what we do have to take into serious consideration, is looking at waivers and an innovative way of bringing health care that is affordable to the working class Mississippians that are left out right now."