WJTV – Presidential candidate Elizabeth Warren kicks off 2020 campaign
CLARION LEDGER – Elizabeth Warren
"I don't think this is strange at all, just because there are so many Democratic candidates," notes Shrader.
And that's why we could see more visits leading up to the Democratic convention.
"What you're going to see more and more of with the Democratic field that seems to get larger by the day," explained Shrader. "You may have 20-some candidates running for the Democratic nomination.
"The hunt for delegates is going to take them to every state and it's going to take them to states that you may not see happening as early," he continued.
Unlike Republicans, Democrats don't have a winner take all system for delegates at the national convention. And Shrader thinks that gives them a greater incentive to hit up every state for votes.
Reeves ties Hood to Warren, national Democrats
Elizabeth Warren called herself an "American Indian" to get ahead as a lawyer. Jim Hood called himself a "conservative Democrat" to do the same. Neither one is true. He's just another Democrat. Both are bad for Mississippi. #MSGov #WarrenTownHall

— Tate Reeves (@tatereeves) March 19, 2019
Two new members have joined the Mississippi House of Representatives.
Speaker of the House Philip Gunn swore in Solomon Osborne and Ronnie Crudup Jr. on Monday after each won a special election Tuesday to fill vacancies.
Osborne is representing District 32 in parts of Leflore County. Former Rep. Willie Perkins resigned to become a chancery judge.
Crudup is representing District 71 in parts of Hinds County. Former Rep. Adrienne Wooten resigned to become a circuit judge.
Today at the Capitol, two new representatives were sworn in by Speaker @PhilipGunnMS. Rep. Ronnie Crudup, Jr. (District 71) and Rep. Solomon Osborne (District 32) were surrounded by friends and family as they took the oath of office. Welcome, gentlemen! #msleg pic.twitter.com/TLlgSJKavl

— Mississippi House of Representatives (@MSHouseOfRep) March 18, 2019
Gov. Bryant joins Toyota for 2020 Corolla ceremony
It was great to celebrate with the team at the Blue Springs Toyota Plant at their 2020 Corolla Line Off Ceremony. The plant has the capacity to produce 170,000 Corollas annually. Toyota Mississippi is a valued member of the state's business community. pic.twitter.com/smop8SIKiz

— Phil Bryant (@PhilBryantMS) March 18, 2019
WTOK – Lottery ticket sales could start this year in Mississippi
The new Mississippi Lottery could start selling tickets sometime during the final half of this year. That's according to Gerard Gibert, who is one of five board members of the Mississippi Lottery Corporation.
Gibert told The Associated Press Monday that the board in recent weeks has hired the Balch & Bingham law firm, which has offices in Mississippi and other states.
He says the board will soon start the process of choosing banking services and hiring a president to run the day-to-day business of the corporation.
A federal appeals court told Mississippi lawmakers to redraw a state Senate district where a judge found that black residents' voting power had been diluted.
A panel of the 5th U.S. Circuit Court of Appeals gave the order Friday, denying a request by state officials to delay the impact of a ruling that U.S. District Judge Carlton Reeves issued last month.
Reeves said Senate District 22 should be redrawn because it fails to give African-American voters an "equal opportunity" to elect a candidate of their choice. The appeals court wrote that a majority of members on its three-judge panel found "there is not a strong likelihood" that state officials ultimately would persuade them to overturn Reeves' ruling.
Sen. Wicker encouraged by continued economic success
New reports confirm that our overall economy continues to grow, wages are rising, and optimism is at all-time highs. Read more in this week's #WickerReport ⤵ https://t.co/xWe5A5Y0mb

— Senator Roger Wicker (@SenatorWicker) March 18, 2019
The Forrest County Circuit Clerk Gwen Wilks said her office is responsible throughout the year to make sure ineligible voters are removed from the system for whatever reason.
"We physically purge people, but the election commissioners are the ones who go through and figure out who to purge and they just send us a list and we do it for them," said Wilks.
She laid out the main reasons the election commissioners would have to request a person be purged from the voting roll.
"One of the reasons is death. If someone passes away, then they'll get it through the newspaper or different ways like that so that someone that dies will be purged," Wilks said.
WTOK – Unclaimed property event this Thursday
Gov. Bryant endorses Rep. Hood in HD35
Rep. Joey Hood has proven to be a reliable conservative advocate for the policies I have put forth to improve MS. He's been in the fight each time, & that's why I'm supporting him in his re-election bid to serve District 35 for a third term. I look forward to campaigning w/ him. pic.twitter.com/i28JTSL1g3

— Phil Bryant (@PhilBryantMS) March 18, 2019
The U.S. Supreme Court denied an appeal from objectors of the Singing River Pension Plan Class Action Settlement Monday.
The latest ruling paves the way for $156,000,000 being paid into the plan.
"This is a great day for the pension members," said lead attorney Jim Reeves. "Frivolous appeals have delayed funding for years and cost the plan millions. That should be all over with this ruling."
Congressman Steven Palazzo recently led a group of his colleagues in the U.S. House of Representatives in a letter to President Trump expressing strong opposition to temporarily waiving the Jones Act for the U.S. territory of Puerto Rico.
The Jones Act requires ships moving between U.S. ports to be American-crewed, American-owned, American-built, and American-flagged. The act helps ensure thousands of shipbuilding jobs aren't lost to overseas competition while also protecting the national defense interests.
Palazzo said the letter follows a short-sighted Congressional proposal to permanently repeal the Jones Act.
"What do you think about candidates and office holders who commit adultery," the Hattiesburg Patriot asked in a post on its Facebook page. "Judicial candidate Dale Beavers is seen posing for a picture with his girlfriend and her son. Beavers' girlfriend happens to be another man's wife, and there are no active divorce proceedings."
Beavers' Facebook profile, where the picture was posted, has since been hidden from public view or deleted.
The Hattiesburg American checked with Forrest and Lamar county chancery courts and there are no divorce proceedings on file for Randy Winfield and his wife, Suzanne Winfield, Beavers' fiancee.
Randy Winfield and his attorney were not available for comment for this story.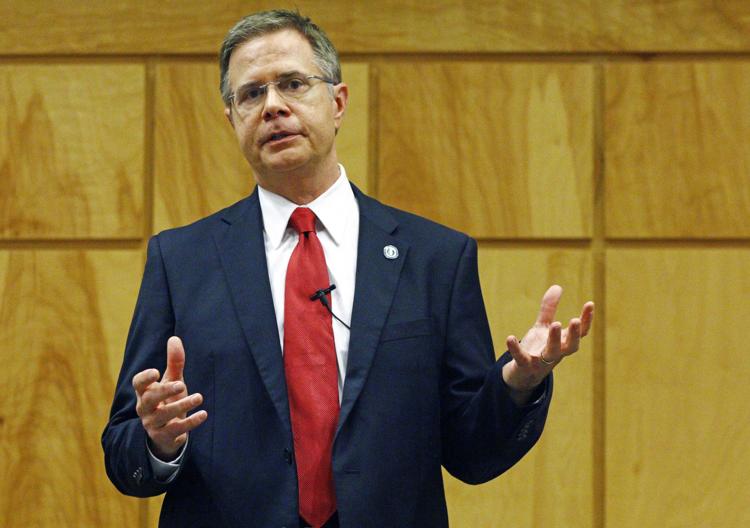 Former University of Mississippi Chancellor Jeffrey Vitter is among four finalists selected to interview for the presidency of the University of South Florida.
A search committee at that university – based in Tampa, Florida – named four finalists on Monday, with interviews beginning Wednesday and continuing for several days.
These finalists were selected from 33 applicants, according to the Tampa Bay Times.
ICYMI from Yall Politics: