A legislative panel on Wednesday questioned a possible conflict of interest involving a nominee to the state's new lottery board.
The Senate Finance Committee ultimately approved the nomination of Ridgeland businessman Gerard Gibert, but not until after a near hour-long debate that brought one Senator to tears…
…Watson choked up as he defended his decision to have the event.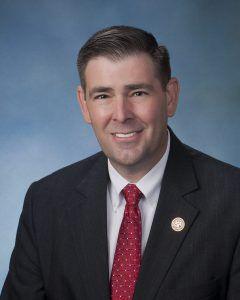 Campaigning to keep his job, Agriculture Commissioner Andy Gipson had a few things on his mind in Lee County this week, things like foreign markets, unfilled farm jobs and fake meat.
The fake meat prompted particular passion.
"By sometime this year at a grocery store near you, they'll be peddling fake meat, meat that's not grown from a farm-raised animal but raised in a petri dish somewhere in California," Gipson said. "I don't want to eat a dime of it."
The Mississippi Center for Public Policy reports that Mississippi has the third highest incarceration rate in the United States.
But what happens with those people looking for a job after serving their time? Now there's a bill circulating at the state capitol that could help ex-felons get employed.
Criminal justice reform is a hot topic in the capitol this session. State Representative Mark Baker of Brandon introduced House Bill 1284 also known as the "Fresh Start Act" which aims to combat ex-felons returning to a life of crime.
"It it clear to us that obviously employment is the number one precursor in the reduction of recidivism. Fresh Start is an important piece of legislation which will begin to allow individuals and open up the barriers for individuals to reintegrate back into the work force," said Baker.
WXXV – Governor Phil Bryant to sign abortion bill into law
ACLU opposing Convention of States legislation in Mississippi
TAKE ACTION NOW! SCR 596 – a resolution to support a convention of the states – is headed to the Senate floor. This is a DANGEROUS BILL! Call Lt. Gov. @tatereevesand your senator NOW to urge them to kill this bill!!! Our civil rights and civil liberties are depending on it. pic.twitter.com/d8HpQFgsoQ

— ACLU of Mississippi (@ACLU_MS) March 20, 2019
The Mississippi Department of Transportation is going to have a large increase in their budget next year and the legislature wants to make sure the money is being well spent.
State Auditor Shad White is implementing a plan to take a look at MDOT's procedures from top to bottom. They will be talking to MDOT employees, city and county officials, and contractors to find ways to spend bridge and road money more efficiently.
White's office received bids earlier this month from auditors that specialize in analyzing infrastructure projects because the road construction business is so unique.
Commerce Secretary Ross visits Mississippi
Today, @SecretaryRoss joined Governor @PhilBryantMS and @cindyhydesmith at the @FirstNetGov and University of #Mississippi Medical Center @UMMCnews MOU Signing. Read his remarks here: https://t.co/dvWBcbNmaR #ems #telehealth #telemedecine #ruralbroadband #FirstResponders pic.twitter.com/fceB3XfJn5

— U.S. Commerce Dept. (@CommerceGov) March 20, 2019
The social media hysteria, threats of political retribution, and withering criticism of Mississippi senior U.S. Sen. Roger Wicker's vote in favor of a resolution of disapproval for President Donald Trump's Feb. 15 national emergency declaration aside, Wicker's vote was the right one.
As Wicker and the other 11 Republican senators who voted for the resolution made clear, they were not opposed to construction of the southern border wall that Trump has championed and that was the goal of Trump's national emergency declaration.
What they opposed — and rightly so — was the establishment of the precedent that a U.S. president can circumvent Congress to pay for what he wants rather than earning Congressional approval for that expenditure.
More to the point, Wicker's vote signals that he fully understands that conservative Republicans won't always occupy the White House and that the next occupants might just be liberal Democrats — or even Socialists like Bernie Sanders or Alexandria Ocasio-Cortez. 
MS House honors service of Rogers, Mettetal
Good luck in your retirement, Rep. Mettetal. https://t.co/daiwg9nmG4

— Philip Gunn (@PhilipGunnMS) March 20, 2019
Thank you for your leadership and friendship, Rep. Rogers. https://t.co/Sv9MGhxOm9

— Philip Gunn (@PhilipGunnMS) March 20, 2019
WXXV – Question of residency for candidate in District 119 State Rep. race
A bill, authored by Speaker of the House Philip Gunn, aimed at helping underage victims of human trafficking has passed. 
Heading into the 2019 legislative session, Speaker Gunn discussed the importance of curbing the rise of human trafficking in the state and helping the victims. HB 571 states that regardless of the circumstances, a minor cannot be charged with prostitution. 
Also included in the bill is language requiring law enforcement to receive specialized training on human trafficking and the development of services for youth survivors of trafficking.
The congressman heading the Committee on Homeland Security has sent an angry letter accusing the FBI and Department of Justice of failing to brief lawmakers on the threat of domestic terrorism. He sent the letter just hours before 49 people were killed at New Zealand mosques and police arrested a suspect who had praised American white supremacists.
Rep. Bennie Thompson (D-Miss.) on Wednesday sent his third letter to the FBI and the Justice Department demanding a committee briefing on the "evolving threat of domestic terrorism" after earlier requests were ignored. "Regrettably, this is just the latest example of non-cooperation on this important issue," Thompson wrote. He asked again for a briefing, this time for the end of March. The committee plans to hold hearings on the issue in coming months.
Thompson on Friday expressed sympathy and offered prayers to all those affected by the brutal attacks on two mosques in Christchurch.