Congressman Thompson questions legality of Trump's comment on transferring illegal immigrants to sanctuary cities
Watch a clip from my interview on @ThisWeekABC with @GStephanopoulos. https://t.co/kefNo47Bkd

— Bennie G. Thompson (@BennieGThompson) April 14, 2019
Mississippi federal Judge Carlton Reeves in a speech in Virginia assailed the Trump administration for lack of diversity in judicial appointments and likened President Trump's attacks on the judiciary to tactics used by the Ku Klux Klan and segregationists in the Jim Crow era.
Reeves, who has ruled on some of the state's biggest legal cases, spoke Thursday at the University of Virginia School of Law, where he accepted this year's Thomas Jefferson Foundation Medal in Law award from his alma mater.
Reeves' law clerk Chelsea Caveny Lewis said Friday that the judge will not make any further comment beyond the speech.
BuzzFeed News reports Reeves, an African American, quoted President Donald Trump's tweets and public comments about judges and the courts (the written version obtained by BuzzFeed includes footnotes making clear Reeves is referring to Trump tweets) and blasted the lack of diversity among Trump's judicial nominees.
"When politicians attack courts as 'dangerous,' 'political,' and guilty of 'egregious overreach,' you can hear the Klan's lawyers, assailing officers of the court across the South. When leaders chastise people for merely 'using the courts,' you can hear the Citizens Council, hammering up the names of black petitioners in Yazoo City," Reeves said, quoting Trump.
Gov. Bryant signs State of Emergency following weekend severe weather
I have declared a State of Emergency for the areas affected on Saturday evening by the severe weather that moved through Mississippi. This will help local response and recovery efforts around the state. pic.twitter.com/CyuNtqzW0L

— Phil Bryant (@PhilBryantMS) April 14, 2019
State Sen. Fillingane releases new book, talks with Gallo to promote 
Enjoyed being on SuperTalk w/ my good friend, Paul Gallo talking my new book, The Kingdom. Check it out at: https://t.co/mDtSvPXKYU pic.twitter.com/UMnPE5cfqp

— Joey Fillingane (@JoeyFillingane) April 15, 2019
WTOK – Phyliss Anderson announces candidacy for 2019 Tribal Chief Election
Congressman Thompson defends Ilhan Omar's 9/11 comments
Democrat @BennieGThompson defends @IlhanMN's 9/11 comments: "I saw nothing wrong." pic.twitter.com/J6mO0oV8Xe

— Arthur Schwartz (@ArthurSchwartz) April 14, 2019
#IStandWithIlhan pic.twitter.com/8rlom6dJzL

— Bennie G. Thompson (@BennieGThompson) April 14, 2019
Attorney General Jim Hood, Democrat. In a statement, Hood said he joins Wicker, Gunn and the Mississippi Economic Council in supporting a flag redesign. "Those who love the history of the flag can fly it on their property, put it on their truck or view it in a museum," Hood said. "A large number of Mississippians believe our flag alienates and hurts people. A symbol should unite — not divide. Then we have the economic considerations, and how the flag holds us back when attempting to attract new business and industry to Mississippi. We want our state to be viewed in a positive light around the country and throughout the world."
Lt. Gov. Tate Reeves, Republican. "The people of Mississippi overwhelmingly voted to keep our flag in 2001," Reeves said in a statement. "I oppose unilateral action by the governor or the Legislature or any other backroom deal by politicians in Jackson to change it. If Mississippians ever decide we should change our flag, and at some point they might, it should only be done by a vote of the people."…

…Secretary of State Delbert Hosemann, Republican. "My priorities are growing an educated workforce, properly funding our schools and teachers, providing safe infrastructure, and ensuring healthcare is accessible and affordable in rural Mississippi," Hosemann said in a statement. "If this (flag) issue makes its way through the (legislative) committee process next year, there will be a vote in the Senate." (The lieutenant governor presides over the state Senate, and so could determine if such legislation came to a vote.)
State Rep. Jay Hughes, Democrat. "Whether the state flag should be redesigned is really a question of whether and how it is affecting economic growth," Hughes said in an interview. "I don't believe any one person should make that decision. It should be decided by the people." He pointed out legislation to change the flag has never gained traction, and said he did not plan to make it an issue of his campaign. "There are so many other issues that are important to taking Mississippi out of poverty — improving our infant mortality rate, public education, mental health, and living wages for state employees," he added. The flag has "simply been a distraction used by our political parties." In 2015, the then-Oxford alderman took a strong stance for removing the flag from city property. "Whether it's heritage or not," he told WREG-TV, "is simply negated by the unfortunate fact that it's taken place alongside other symbols of hate and bigotry."
People elected to the Mississippi House and Senate this year will be in charge of redrawing legislative districts in the coming term.
It's an important and inherently political task. And things could get ugly in the push-and-pull between the two major parties.
Mississippi has 52 districts in the Senate and 122 in the House. Political boundaries are supposed to be redrawn at least once a decade, after new Census numbers reveal which parts of the state have gained residents and which have lost them.
Ideally, districts would be balanced by population, with roughly 57,390 residents in each Senate district and 24,460 in each House district. Those numbers are based on July 2017 population estimates, which will, of course, change once the national head count is done next year.
Gov. Bryant speaks with YP on 2019 legislative session
I spoke to @MSyallpolitics today about my thoughts on the recently ended 2019 Legislative Session. You can hear my thoughts below. https://t.co/B11UrWUJPn

— Phil Bryant (@PhilBryantMS) April 12, 2019
2019 Mississippi Legislative Session – Review and Wrap
Host – Pat Peterson, News Director, WTOK
Guest – Representative Greg Snowden, Speaker Pro Tempore, District 83
Click here for the complete interview.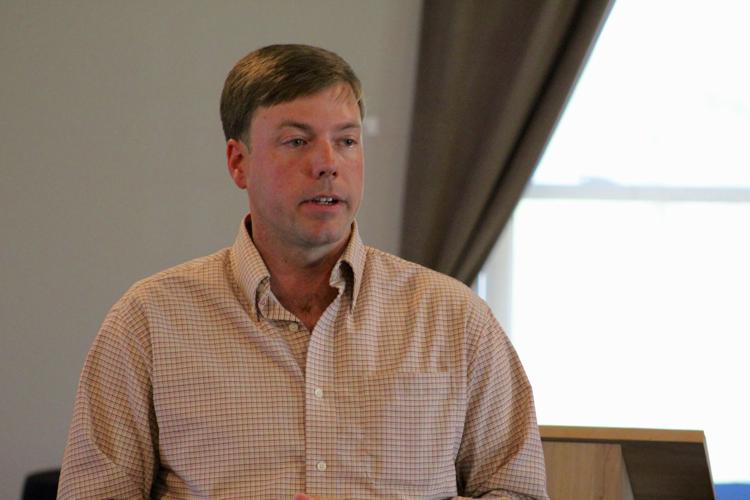 The Hernando Republican, running for governor against Lt. Gov. Tate Reeves and former state Chief Justice Bill Waller Jr., said nothing taken will be detrimental to the campaign, but it will be "a pain" to retrieve them.
During his stop in Olive Branch, Foster talked about his recent debate with Waller, believing it went well, although he was still disappointed that Reeves was not a part of the debate.
"I got my points across very well and I'm looking forward to hopefully some other debates where, hopefully, we can have all three on the stage and we can have a little more exchange," said Foster.
The first-term Republican legislator continued to stump for a change in the state's dependence on income taxes.
Wicker receives Highway Safety Hero Award
This week I was honored to accept the Highway Safety Hero Award from @SafeRoadsNow in recognition of my efforts to ensure safer cars and safer roads for America's drivers and their passengers. pic.twitter.com/hNuuAwWj3s

— Senator Roger Wicker (@SenatorWicker) April 12, 2019
Whether you deplore the way the Mississippi Legislature currently operates or you rejoice in its works, change is needed. The status quo makes no sense.
Longtime North Mississippi legislator Hob Bryan set the stage by calling on his Senate colleagues to take back power from the lieutenant governor.
It's no secret that Lt. Gov. Tate Reeves, and his counterpart in the House, Speaker Philip Gunn, decide what legislation lives and which projects get funded. As Bryan noted, their extraordinary power does not come from the state constitution. Rather, it is gifted to them by all legislators through the Senate and House rules.
Ironically, Reeves and Gunn often exercise this power with little regard for, much less input from, most legislators. For example, the addition of $2 million for private school vouchers was slipped into an unrelated bill at the last minute leaving most legislators in the dark about it. Reeves wanted it added. Gunn rammed it through the House. Done deal.
Congressman Guest thanks outgoing DHS Sec. Nielsen for service
I'd like to thank Kirstjen Nielsen for her service as Sec. of Homeland Security and I look forward to working with acting secretary Kevin McAleenan to secure our border. I will be back home in MS next week travelling throughout the district to discuss my first 100 days in office. pic.twitter.com/jyQzz9MSVb

— Congressman Michael Guest (@RepMichaelGuest) April 12, 2019
Mississippi state parks are attracting a steady flow of visitors, but tight budgets are creating problems for maintenance.
Officials say about 1 million people have visited the state parks for each of the past five years.
The number of full-time park employees at the 25 parks has been sharply reduced in recent years, from 193 workers to 110, The Northeast Mississippi Daily Journal reported.
Jennifer Head, the state parks' liaison to the state Legislature, said the parks need improvements to water and sewer systems and electrical upgrades in RV camps. She also says more than 600 structures, including cabins and pavilions, are "in desperate need of repair or replacement."