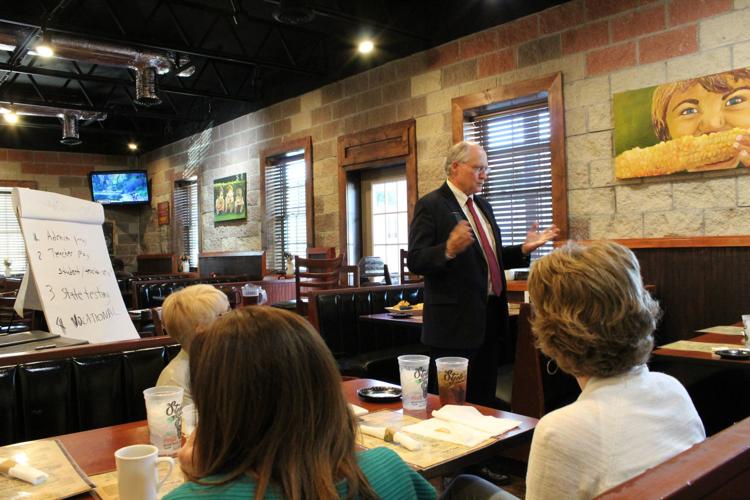 A handful of educators came to Steele's Dive on Monday to hear the views of Republican candidate for governor Bill Waller Jr. on the state of education in Mississippi.
Waller opened the floor to a handful of teachers from around Lee County who expressed dissatisfaction with state administrative salaries, teacher pay and teacher shortages, as well as state assessments.
Tupelo was one of several stops Waller has made to Mississippi cities including Ocean Springs, Hattiesburg, Jackson, Clinton and Vicksburg where teachers were put on the podium to talk about issues in education.
Mark Bakers receives endorsement from Mississippi Automobile Dealers Association in AG bid
I'm proud to have the support of the Mississippi Automobile Dealers Association! As Attorney General, my office will ensure an environment where businesses can thrive and create jobs pic.twitter.com/8m0II9rDus

— Mark Baker (@MarkBakerForAG) May 8, 2019
Sen. Wicker celebrates judicial confirmation milestone
At the end of April, the Senate confirmed its 100th federal judge since @realDonaldTrump's inauguration. More nominations are coming and, thanks to a recent Senate rules change, they will face a streamlined confirmation process. #WickerReport https://t.co/pMhD2eh3t7

— Senator Roger Wicker (@SenatorWicker) May 13, 2019
A federal judge is rejecting attempts by Mississippi officials to throw out a federal government lawsuit challenging how the state runs its mental health system.
U.S. District Judge Carlton Reeves Monday ruled against the motions by Mississippi Attorney General Jim Hood, putting the case on a path toward a six-week trial beginning June 1.
The state claimed the federal government didn't have authority to sue under part of the Americans with Disabilities Act that was cited. Reeves rejects that claim.
Unita Blackwell, first African-American female mayor in Mississippi dies
Our statement on the passing of former Mayersville Mayor Unita Blackwell. pic.twitter.com/hWbUfCFdhi

— MS Democratic Party (@msdemocrats) May 13, 2019
On Monday, the Mississippi Hospital Association proposed a partnership between the state and federal governments and Mississippi hospitals that could give those low-paid, non-disabled adults working to provide for their families access to affordable quality healthcare. The name of the program is "Mississippi Cares," and if you're single and making around $17,000 a year, or married and making around $35,000 for a family of four, it applies to you.
"It creates a stronger access to care for those individuals that fall below 138 percent of the poverty level. That's all this plan affects, it doesn't affect anybody else," said Mississippi Hospital Association President and CEO Tim Moore. "A lot of these people are already working, they're taking care of their family, and they struggle with trying to have insurance coverage."
Congressman Guest pledges to protect Hyde aAendment
I'm honored to sign this letter authored by @RepJimBanks. By signing my name, I am pledging to protect the Hyde Amendment and to fight to continue ensuring that taxpayer dollars are not used to perform abortions. #ProLife pic.twitter.com/9O58fLLhTb

— Congressman Michael Guest (@RepMichaelGuest) May 13, 2019
Mississippi has joined 43 other states in a lawsuit against Teva Pharmaceuticals and 19 of the nation's largest generic drug manufacturers, alleging a "broad conspiracy" to artificially inflate and manipulate prices by as much as 1,000 percent, reduce competition and unreasonably restrain trade for more than 100 different generic drugs.
Attorney General Jim Hood announced the action in a news release Monday.
Complaints about skyrocketing prescription drug prices have drawn bipartisan criticism and have been the subject of numerous investigations and charges, including a similar suit in December 2016 by the attorneys general of 45 states and the District of Columbia.
Gov. Bryant welcomes Enviva to Mississippi
We all welcome @EnvivaBiomass expansion in Mississippi. More good jobs in the forest industry. @GlennMcCJr @CommAndyGipson @mdaworks https://t.co/acanFYVY8e

— Phil Bryant (@PhilBryantMS) May 13, 2019
A Georgia engineering firm has been hired by the Board of Mayor and Aldermen to perform a feasibility study for a proposed multi-modal port on the Mississippi River near Vicksburg.
The board Friday approved a contract not to exceed $240,000 with Atlanta, Ga.-based Jacobs Engineering Group Inc. to perform the study, which is funded by $1 million in state funds.
It is the key item in a $55 million capital improvements program proposed by Mayor George Flaggs Jr. that would be funded by a 1-cent sales tax. About $26.5 million of the money would serve as matching funds for the port, which the mayor estimates would cost about $125 million.
The board is expected to seek a local and private, or special bill, during the 2020 session of the Legislature to hold a referendum on the 1-cent tax.