State Auditor Shad White to Nike: Hope the giant flag in my office doesn't hurt your delicate feelings
Here's the giant flag that's in my office, ⁦@Nike⁩. Hope that doesn't hurt your delicate feelings. pic.twitter.com/zmEEqjkjYt

— Shad White (@shadwhite) July 2, 2019
Senate and House lawmakers, led by U.S. Senator Cindy Hyde-Smith and Congressman Michael Cloud (R-Texas), today pressed the U.S. Department of Health and Humans Services (HHS) to quickly finalize a rule to end a hidden surcharge within many health plans that funds elective abortion services.
Hyde-Smith and Cloud sent a letter to HHS Secretary Alex Azar, signed by 25 Senators and 103 Representatives, that stresses the importance of swiftly replacing an Obama-era rule that violates congressional directives in the Affordable Care Act (ACA) to keep abortion service charges separate from other premium payments.
"There is an urgency to ensure people are not unknowingly supporting abortions if they're enrolled in ACA health plans.  The Obama administration strayed far from the law by allowing hidden abortion surcharges on people who would never condone their hard-earned money going to support abortions," Hyde-Smith said.  "The regulations need to be corrected as soon as possible."…
…The letter was also signed by U.S. Senator Roger Wicker (R-Miss.) and Congressmen Steven Palazzo (R-Miss.), Trent Kelly (R-Miss.), and Michael Guest (R-Miss.).
Wicker chairs Helsinki Commission in Poland
WATCH NOW ▶ I am chairing a @HelsinkiComm field hearing in Gdansk, Poland, on #BalticSeaSecurity. This is the first time in the history of the Helsinki Commission that we are holding a field hearing abroad. https://t.co/0CRrv8MSIr

— Senator Roger Wicker (@SenatorWicker) July 2, 2019
There's a legal fight brewing over what meat substitute products should be called. The state of Mississippi is being sued in federal court.
Labels use terms like "bacon", "burgers" or "chorizo," but they often also show that it's 100% vegan. Makers of plant-based foods claim they will no longer be allowed to use terms like "meatless meatballs" or "veggie burger."
"People understand that foods labeled as meatless do not contain meat," said Institute for Justice Managing Attorney Justin Pearson. "Customers seek out these foods specifically because they are vegan. However, for sellers of vegan foods it is extremely helpful to explain to customers the characteristics of the foods using meat product terms."
Mississippi's new law, that took effect Monday, seeks to crack down on the way those products are labeled. But this federal lawsuit argues that's a violation of the first amendment rights for companies like Upton's Foods.
Ag Commissioner Gipson releases statement on labeling lawsuit
Yesterday the State of Mississippi was sued in federal court by out-of-state interests seeking to block Mississippi's new meat labeling law. My official statement attached pic.twitter.com/7T0Kj12OQu

— Commissioner Andy Gipson (@CommAndyGipson) July 2, 2019
Taggart releases ad for AG focused on fighting drugs
We must fight to stop the destruction that the scourge of drugs unleashes into our communities. Public safety is the first job of state government. The resources of the Attorney General should be focused on fighting the evils of drug violence. #CounselForMS #JoinTheATeam pic.twitter.com/UBQ9lw0bsb

— Andy_for_AG (@Andy_for_AG) July 2, 2019
Unofficial election results are complete for the race for chief of the Mississippi Band of Choctaw Indians.
Former tribal council member and businessman Cyrus Ben defeated incumbent Phyliss J. Anderson by a wide margin.
YP – Jeremy Martin talks about his run for Northern Transportation Commissioner
COMING UP: Candidate for Northern District Transportation Commissioner Jeremy Martin talks to Y'all Politics about why he chose to run and what he sees as the big issues facing the office. #msleg #mselex pic.twitter.com/Qz8QRjSs0g

— Yall Politics (@MSyallpolitics) July 2, 2019
Hyde-Smith, Reeves participate in announcement at Vicksburg Military Park
I was honored to celebrate the Vicksburg Military Park expansion. The historic Champion Hill land acquisition will not only improve the conservation of a national military treasure but also the tourist experience. pic.twitter.com/SEi0ateNEX

— U.S. Senator Cindy Hyde-Smith (@SenHydeSmith) July 2, 2019
Mabus throws shade on Bryant's Space Force
So Mississippi has a Space Force! Won't pay teachers a living wage, fails in education, pitiful on health care, tries to deny women control over their own bodies, suppresses voting rights but at least has a Space Force https://t.co/01hEPHWeLV

— Ray Mabus (@SECNAV75) July 2, 2019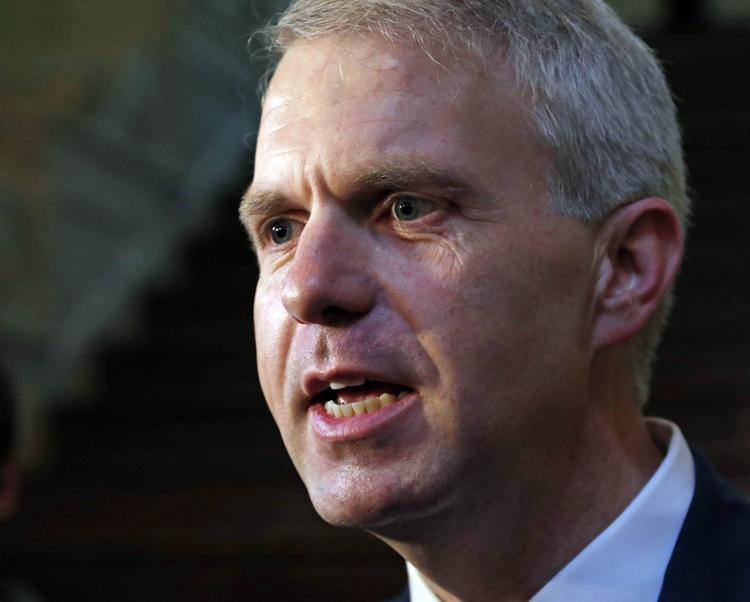 Northern District Public Service Commissioner Brandon Presley has launched an investigation into Northeast Itawamba Water Association following a report of system overcapacity from the Mississippi Department of Health.
Presley's office made the announcement late Tuesday morning.
According to the docket filed by Presley's office with the statewide Public Service Commission, Northeast Itawamba Water Association is serving roughly 1,500 customers via two systems — Ridge and Salem. The Salem System is now operating at 104% design capacity. Because of the system overload, the Mississippi Department of Health's Bureau of Public Water Supply has placed a moratorium on the system, prohibiting the water district from connecting new customers to it.
Auditor: Former Stone Co. Utility Authority assistant indicted for embezzlement
Auditor @shadwhite announced the arrest of Shellie Dickens (aka Shellie Martin), former assistant at Stone County Utility Authority, after she was indicted for embezzlement. She was issued a $13,492.12 demand letter at the time of her arrest.

Read more: https://t.co/8Z5VVPkWK7 pic.twitter.com/J0xR0GOEHy

— OSA (@MSStateAuditor) July 2, 2019
Congressman Thompson comments on conditions at border
"DHS is still holding migrants – including families and children – in dangerous and unsanitary conditions. These facilities are clearly inhumane. "

Read Chairman @BennieGThompson's statement on dangerous overcrowding and prolonged detention at Rio Grande Valley CBP facilities. pic.twitter.com/BDJK95EaSz

— House Homeland Security Committee (@HomelandDems) July 2, 2019