Emails from multiple members of the Mississippi Democratic Executive Committee provided to Y'all Politics reveal a major break in decorum along racial lines over efforts by the Jim Hood campaign to impugn the credibility of both the Director of the Hinds County Democrat Executive Committee Jacquie Amos and JSU Director of Communication Dr. Elayne Hayes-Anthony.
Several hours after Y'all Politics broke the story about the aborted Democratic gubernatorial debate proposed by the Hinds County Democratic Party at Jackson State University, Mississippi Today's Adam Ganucheau wrote a story (that did not cite the originating story from YP that broke 12 hours earlier) regurgitating the facts of the original YP report.  After the original report was posted, Mississippi Today added the following to the report.
An explosive new report from the State Auditor's office reveals several agencies failed to meet legal requirements when it comes to spending public money. The report also says those agencies do not have adequate safeguards to prevent fraud.
The findings came from State Auditor, Shad White's, newly released FY 2018 Single Audit Report, which includes an official inspection of federal dollars spent by state agencies. The report also includes an audit of the internal controls, the rules and systems to prevent fraud, and operations of selected state agencies.
"These audits represent months of difficult but important work by my finance and compliance audit division," said Auditor White. "This is a critical yearly report that, unfortunately, shows there are serious issues in some of our state agencies."
Reeves endorsed by MS Right to Life
In a press release sent out by the Chair of the House Education Committee, Chairman Richard Bennett expressed continued support for providing teacher pay raises to all 40,991 Mississippi educators, even those left out by the Mississippi Department of Education's calculations.
"It was our intent, as the Legislature, to provide pay raises to all teachers and teacher's assistants," Bennett wrote.
He revealed that the legislature appropriated $58,442,743 in order to provide these educator pay raises.
After the MDE released pay raise information to the school districts, Bennett says the districts then alerted MDE that certain positions had not been accounted for.
Sen. Wicker encouraged by President's budget deal
See my full statement on @realDonaldTrump's budget deal here ⤵ pic.twitter.com/rM2Bd4zyfP

— Senator Roger Wicker (@SenatorWicker) July 22, 2019
Lieutenant Governor and Candidate for Governor Tate Reeves touted workforce development at Meridian Community College Monday. He discussed a plan that would invest 100 million dollars in a "Modern Mississippi Workforce."
"Work is changing. The jobs that paid well 50 years ago, are not the jobs of today, and skilled trades are soaring," Reeves says. "We need the next generation of Mississippi workers to be equipped to take on any job."
Despite record-low unemployment in Mississippi, there are still challenges the state faces.
"We still have too many people in our state, between the ages of 18 and 65 that are able-bodied that are not in the work force, and one of the reasons they are not in the work force is because they don't have the skills that are needed to provide the jobs of the next 50 years," Reeves explains. "And so we want to ensure that we have invested capital in a distribution network like our community colleges that do a fantastic job in so many areas, but certainly work force training is one of them, to make sure that we have the necessary capacity to train the people of the next 50 years."
"For many voters, it is the first time that they're having the opportunity to hear from these candidates, particularly in a comprehensive way," said Barbour. "Most voters aren't going to stick around for the full time of the debate. But if they stick in for 10 minutes or 20 minutes, it is important."
But the end goal could be slightly different for each of the three candidates.
"Tate Reeves is the overwhelming favorite in this race," added Barbour. "So, if you're Tate Reeves you just want to have a debate, perform, do well and not have any bad moments. If you're Bill Waller or Robert Foster, you're looking for a chance to find a way to make the front page of the paper. Find a way to be on Facebook, to be trending on Twitter. Those are the things that you're looking for."
Hood went on TV last week with his first campaign ad of the season — a 30-second spot that shows him driving a tractor, holding ammunition, chatting with diverse groups of people. He talks about cracking down on child pornographers and going to church with his family. The ad also shows Hood getting out of a pickup truck. With a dog walking beside him as they pass a shiny golden cross in the yard, Hood says: "Thank God for family and the chance to help others."
Reeves has been airing ads for several weeks. One shows him at campaign events saying Mississippi must continue to cut regulations and taxes, train workers and "keep reforming our schools." That's followed by clips of Reeves saying: "Jim Hood won't. But I will." In another ad, Reeves says "out of state liberals" hate Mississippi's new license plate because it includes the phrase, "In God We Trust." Another ad features his wife, Elee, who describes him as being "strong" and having "a soft heart for Mississippi."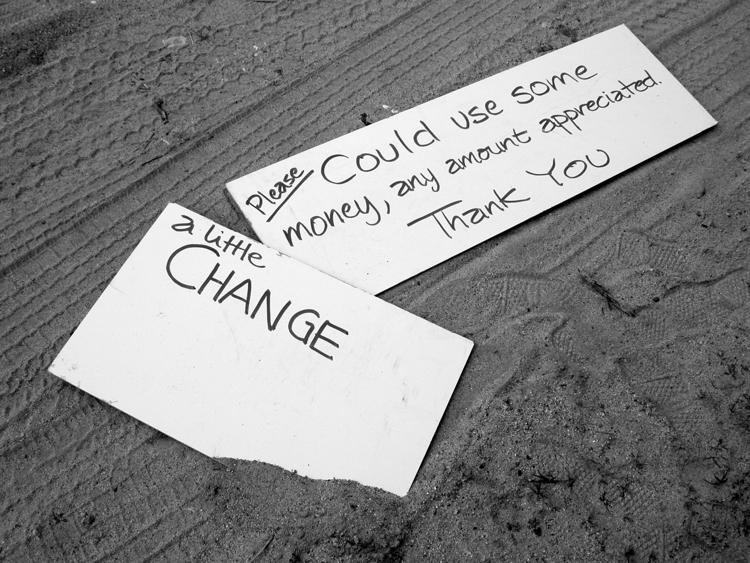 When asked to comment about the ACLU claims, Olive Branch Mayor Scott Phillips said in an email response, "The City of Olive Branch continually reviews its public safety ordinances for compliance with constitutional law. The City of Olive Branch does not have an ordinance that regulates 'panhandling.' In 2018 the City repealed a ROW solicitation ordinance due to the fact that there are general state statutes that allow the City to accomplish the same public safety goals."
Phillips went on to say, "The City also revised its door-to-door commercial solicitation ordinance to better reflect the public safety goals and to more clearly address certain free speech issues. The ACLU should be aware of these changes and the City of Olive Branch should not be included in a list of communities with problematic ordinances."
Southaven, Mississippi's third-largest city, should also not be included on the ACLU list, according to Mayor Darren Musselwhite.
"The City does not have this type of ordinance," Musselwhite stated. "We do have ordinances for public safety which restrict people in public street right-of-ways. This has caused some questions from this organization in the past, but we have answered all of their questions."
Gov. Bryant seeks new disaster declaration from President
I sent a letter to @realDonaldTrump requesting a new Major Disaster Declaration for the Mississippi counties of Humphreys, Issaquena, Sharkey, Warren, and Yazoo. This disaster declaration will assist with recovery efforts in areas that have experienced severe flooding. pic.twitter.com/QW4INZ2bZi

— Phil Bryant (@PhilBryantMS) July 23, 2019
The vice chairman of the Mississippi Lottery Corporation says he's interested in becoming chancellor of the University of Mississippi.
In response to reporters' questions about the Ole Miss job, Gerard Gibert of Ridgeland said Monday, "I was approached by some people that thought I might have an interest in that, and I made clear that I do. I have been through several pieces of that process. Don't really want to disclose specifically what those are."
He said it began with others approaching him, and that he did not initiate the process.
Wicker underscores America's NATO security commitment
The greatest force behind #NATO's collective security guarantee will always be the U.S. Our nation's military is the strongest in the world, and maintaining that edge over potential adversaries requires full congressional support. #WickerReport https://t.co/gpEkgY1LL7

— Senator Roger Wicker (@SenatorWicker) July 22, 2019
Palazzo to host tele-town hall Wednesday evening
I am hosting a Tele-Town Hall on Wednesday night at 7:10 pm CST.

Make sure you're signed up to join the conversation by following the link here: https://t.co/lRBX0LsXEB pic.twitter.com/g0TttWX15x

— Cong. Steven Palazzo (@CongPalazzo) July 23, 2019
Thompson urges Pelosi to reject diversion of TSA aviation security fees
Chairman @BennieGThompson and Chairman DeFazio wrote Speaker Pelosi today urging her to oppose and reject any extension of the diversion of TSA aviation security fees in the budget talks —- its bad for security. pic.twitter.com/sejSB2bcYX

— House Homeland Security Committee (@HomelandDems) July 22, 2019
MS House Speaker Pro Tem Snowden takes issue with Israel attacks by some in Congress
Many candidates running in upcoming statewide elections still have significant campaign cash saved up from back then, a Clarion Ledger review of secretary of state filings found. While lawmakers drew praise for campaign finance reform they passed in 2017, Mississippi's current law — including the lack of spending rules for old money — remains among the most relaxed in the country.
Under a grandfather clause lawmakers included when they passed reforms, several high-profile candidates could lose in next month's primary and walk away hundreds of thousands of dollars richer. If Lt. Gov. Tate Reeves lost his bid for governor in next month's primary, he could legally take home around $5 million in political donations. His campaign said that wouldn't happen…
…Mississippi politicians do often follow those protocols, even though the state law doesn't require it. Gov. Phil Bryant, for example, closed out his $1 million campaign fund at the end of 2017, giving most of the money to the Imagine Mississippi PAC and other political causes. When Sen. Tommy Gollott closed out his campaign fund in 2017, he donated his $14,000 in excess cash to the Boys & Girls Club.