Reeves reports raising about $5 million this year, and he has roughly that much cash remaining in his three campaign funds. The reports filed Tuesday show that Reeves collected more than $364,000 July 1-27, and his campaign transferred $1 million from one of his funds to another.
Reeves faces former Mississippi Supreme Court Chief Justice Bill Waller Jr. and state Rep. Robert Foster.
Waller, who's trying to force Reeves into a runoff for the party nomination, has raised $1.2 million this year and has spent $1.1 million. He reported $117,501 cash on hand.
Foster has raised about $179,400 and spent about $176,000 this year and reports $15,634 cash on hand.
Hood has raised $1.6 million and spent $1.1 million this year and reports just over $902,000 cash on hand.
Congressman Thompson: "Police brutality has become predictable and expected"
https://t.co/MChyobd9UY pic.twitter.com/u11mVPRQ0V

— Bennie G. Thompson (@BennieGThompson) July 30, 2019
In wake of Trump's tweets backing Sen. Hyde-Smith, Chris McDaniel questions President's endorsements
Jackson County Sheriff Ezell backing Reeves for Governor
It has been my honor as Lt Gov to support our first responders. Your service and sacrifice keeps our families safe every day. I am honored to have the support of first responders like Jackson Co. Sheriff Mike Ezell, who knows I will continue to back the blue as Governor. pic.twitter.com/hiLSsVnbth

— Tate Reeves (@tatereeves) July 30, 2019
Hosemann nears $3M in campaign cash on hand
CAMPAIGN FINANCE: Candidate for Lt. Governor @DelbertHosemann will end his finance campaign deadline prior to Aug. 6 with $2.98M Cash-on-Hand, raising more than $51,000 in July. #msleg #mselex

— Yall Politics (@MSyallpolitics) July 30, 2019
Andy Taggart decided that the time was right. It might have seemed like a last minute decision, coming as it did on the qualifying deadline date of March 1. But Taggart had actually been pondering the run for Mississippi Attorney General for some time.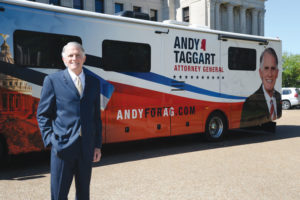 "I had almost run four years ago for AG," Taggart says, "because it's truly the only statewide office I have any interest in at this point in my career. And, after long consideration with my wife, Karen, I knew that the time was now and that I was ready to enter the race with a newfound passion and sense of purpose."
The most prominent part of that purpose—as well as the reason Taggart waited as long as he did to announce his run—was the recovery and reflection he and his family were still going through after the tragic death of Taggart's son in 2012.
Senators Roger Wicker and Cindy Hyde-Smith, both of Miss., announced that their Bridge Investment Act has been included in the America's Transportation Infrastructure Act, a five-year surface transportation authorization bill passed unanimously out of the Environment and Public Works (EPW) Committee on Tuesday.
The senators' proposal would designate $3.265 billion from the Highway Trust Fund for a competitive grant program to repair and replace deficient and outdated bridges for fiscal years 2021 through 2025. The proposal would also authorize an additional $3.265 billion to be appropriated for the same period.
Senator Wicker serves as chairman of the Senate Commerce, Science, and Transportation Committee and is a member of the Environment and Public Works Committee.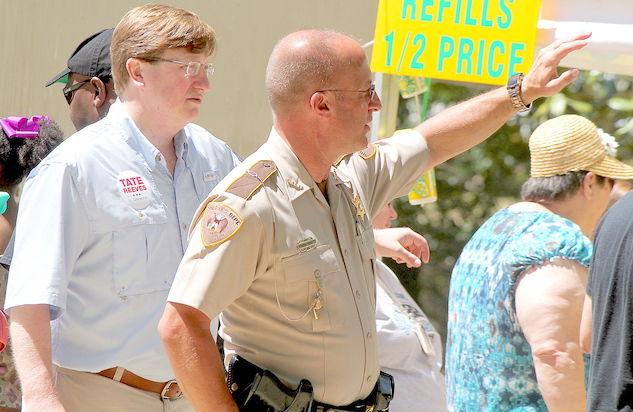 We know for sure where you won't trace any money to — The Laurel Leader-Call. Our stance in this campaign has cost us tens of thousands of dollars in advertising revenue, and that's a big chunk for a small business like ours.
We are sacrificing our economic interests in order to look out for yours. That's what we did in our reporting of the Burroughs-Sinclair manslaughter case and it's what we're doing now. It's not smart business. But it's the right thing to do. It's our job.
Now we hope you go to the polls and do your job. Take the information that we've provided you, apply your own common sense and do the right thing. Either you're for the usual Establishment politics or you're tired of it.
We think people have seen the light in the last year. If not, that will send a sad message. Come next January, if Alex Hodge is sworn in for a fourth term and Tate Reeves is sworn in as governor, we'll know that the donor class still controls Jones County and the rest of the state.
WJTV – Politics take center stage in Neshoba County
National Right to Life tweets thanks to Wicker, Hyde-Smith for backing Patients First Act
Thank you Sen. Blackburn, @SenatorWicker and @cindyhydesmith for introducing the Patients First Act.

This life-saving legislation would promote stem cell research without the creation, use, destruction, or discarding of human embryos. https://t.co/HJITpR9Up9

— National Right to Life (@nrlc) July 30, 2019
Your credit score doesn't define you, experts say, but it could be driving the divide between white and black Mississippians trying to buy a home.
Black Mississippians are more than twice as likely to be denied a home loan than white Mississippians, according to federal data analyzed by the Clarion Ledger earlier this year.
The Mississippi Legislative Black Caucus convened a meeting Tuesday afternoon in response to that report. They wanted to understand what was causing the mortgage denials and what they as lawmakers could do about it.
Before any of that happens, the Mississippi Lottery Corporation needs to award a contract to a vendor, hire an advertising agency and get retailers on board. Communications director Meg Annison said the lottery corporation is working from the ground up and is asking for patience.
Coast casino executives say sports gaming has been a home run for the industry in Mississippi. This week marks the one-year anniversary for sports betting in the state.
"I think the first year has absolutely been over the top," said Chett Harrison, Golden Nugget Casino vice president and general manager. "We knew college football would be big, especially in the SEC. It far exceeded our expectation times 10."
Then there's NFL football, another local variable that helped get sports betting off to a running start.
Troll level: Expert.
That's what one person commented on a photo of a rainbow-themed Confederate flag posted on Beauvoir's Instagram page.
The photo, along with two others, were published to the page by a hacker.
Beauvoir officials announced the hack Sunday on Facebook. The photos had not been removed Monday morning.
"The username, the password, the verification, everything has been changed," said Kitsaa Stevents, Beauvoir's marketing director. "We're working on it. We really are."
A Mississippi man who was disqualified from running for a seat on the county board of supervisors is still campaigning and requesting donations.
The Hattiesburg American reports Derrian Moye, 30, is ineligible to run for the Forrest County Board of Supervisors because he pleaded guilty to a felony forgery charge in 2008. However, Moye is still asking for contributions to his campaign, preferably sent via Cash App.

An annual examination of the nation's school systems by state once again puts Mississippi near the bottom, with Mississippi public schools ranked as poor in both quality and safety of their students.
The extensive study by financial site WalletHub ranks Mississippi 47th out of the 50 states and the District of Columbia, just behind West Virginia and ahead of Arizona, Louisiana and New Mexico…
…Among Mississippi's worst rankings among the Quality metrics was a ranking of 47th for Reading test scores and 44th for median ACT scores.
Mississippi ranked 42nd in student Safety, which accounted for 20 percent of the total.