It's Primary Election Day… GO VOTE!
Don't know where to vote?  Click here for a polling place locator courtesy of the Secretary of State's Office.
Want to see a sample ballot?  Click here for Republican and here for Democratic.
As of 8 a.m. today, 46,545 Mississippians have requested absentee ballots for the upcoming August 6 Primary Election, and 41,097 absentee ballots have been received back to the Circuit Clerks' Offices.
26,337 Democratic ballots were requested with 22,673 received. 20,207 Republican ballots were requested with 18,387 received.
Comparatively, in the 2015 Primary Election, 41,392 absentee ballots were requested, with 37,318 absentee ballots received.  The number of votes cast in the 2015 Republican Primary Election totaled 279,428 and the number of votes cast in the 2015 Democratic Primary Election totaled 299,278, for a grand total of 578,706 votes cast.
Several campaign mailers in opposition to candidates were sent by an organization which has failed to register and/or report campaign finance information required by state law.
The mailers disclosed the name of the organization "Center for Public Accountability" but it is not organized as a political committee nor has it filed independent expenditure reports with the Secretary of State's Office.
"Political free speech has few limits, but one is the requirement our citizens know who is exercising that right," Secretary Hosemann said.  "Failure to disclose is violating state law and can mislead voters."…
…The Secretary of State's Office issued a letter to the Center for Public Accountability on Friday, August 2.  A copy of the letter and campaign mailers referenced above are attached herein.
WJTV – One on one with Lt. Governor Tate Reeves
Favre backs Reeves for Governor
To my fellow Mississippians, as we head to the Polls tomorrow for the primary election for Governor, I hope you'll join me in Voting for @tatereeves, a friend and family man who is committed to making our state a better place. #msgov

— Brett Favre (@BrettFavre) August 5, 2019
WJTV – Waller weighs in from the campaign trail
Even as climate gains momentum in national polls and as a central topic of the Democratic presidential race, it hasn't registered ahead of Tuesday's statewide primary. None of the contenders' campaign websites mention it — two candidates generally reference environmental protection — and it was not discussed in a recent GOP debate.
In interviews with the Clarion Ledger, Republicans Tate Reeves and Robert Foster expressed skepticism the warming is human-caused. Nearly all climate scientists agree that it is.
Democrat Robert Shuler Smith said he is unsure what is causing climate change. Democrat Jim Hood said in a statement it is "created by a whole range of factors, including human activity."
WTOK – Waller, Reeves campaign in Meridian
Bill Waller Jr. was at Chesterfield's restaurant in Hattiesburg thanking his staff for all the hard work the group has done in turning out the vote for him. He encouraged everyone to take advantage of the remaining time to canvass their neighborhoods and get online to contact undecided voters.
"It's great to be here in Hattiesburg, in the Pine Belt area, this has been a very, very important part of the state," Waller said, "I've spent a lot of time here and held teacher town halls here and visited the hospital here and all points between, we got a great group of supporters here, I'm urging them to get on the phone, email and let's get a good vote out tomorrow."
Across town, Lieutenant Governor Tate Reeves was at his campaign headquarters off Highway 98, thanking volunteers for their efforts in getting out the vote. He reminded the group that he was the man to lead Mississippi forward and to keep the state out of the hands of the democrats.
"We're in the stretch run now, we're working very hard, we started at 4 a.m. this morning down at Ingalls Shipbuilding on the Mississippi Gulf Coast," Reeves said. "Here in Hattiesburg today, and as you can see, we've got tons of volunteers behind us that are making calls to undecided voters, urging them to support the only true conservative in the race for governor this year. We don't want to allow a liberal democrat in Mississippi to try to curtail the policies of President Donald Trump at the national level. President Trump needs an ally in Mississippi, and I'm committed to being that ally."
Trump County Chairs back Britton for SOS
Trump County Chairs/Co-Chairs from all across Mississippi Endorse Sam Britton for Secretary of State. pic.twitter.com/b3upiCojUo

— Sam Britton (@SamBrittonMS) August 2, 2019
WTOK – Watson campaigns in Meridian
Nunnelee family backs Clarke for Treasurer
ACU endorses Bomgar for reelection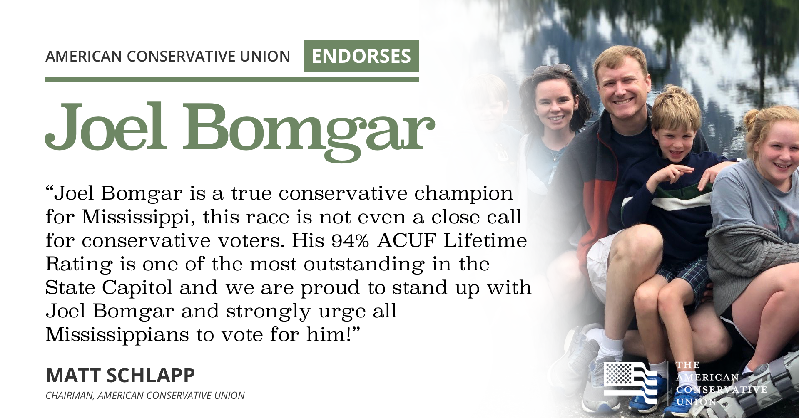 The American Conservative Union (ACU) today announced its endorsement of Joel Bomgar for election in Mississippi to the State House of Representatives in the 58th District.
By a 2-1 ruling, the Fifth Circuit Court of Appeals upheld the implementation of a redistricting plan for Senate District 22 following an order from a federal judge.
In February, U.S. District Judge Carlton Reeves ordered the redrawing of the district after a lawsuit claimed that the district failed to give African-Americans an "equal opportunity" to have their voice heard at the polls.
A resolution to redraw the district, which was adopted by lawmakers in March, repositioned portions of Senate Districts 22 and 13 to increase the 'black voting-age population' of District 22 from around 51% to 58%.
WXXV – Mayoral Monday: Pascagoula Mayor Dane Maxwell
Wicker to join Senate leaders to address gun violence
See my full statement on the recent shootings in El Paso, Texas, and Dayton, Ohio, here ⤵ https://t.co/U2iHkTSvwC

— Senator Roger Wicker (@SenatorWicker) August 5, 2019
Congressman Thompson talks gun violence with Roland Martin
On @TJMShow I spoke with Rep. @BennieGThompson about the white domestic terror attacks in #Dayton and #ElPaso. Rep. Thompson also discusses just how serious this problem is. #RolandMartinUnfiltered ☛ #Facebook https://t.co/xZIrBUZGJl #YouTube https://t.co/HkpsgXtR2T

— rolandsmartin (@rolandsmartin) August 5, 2019
Congressman Thompson says President's words are meaningless
"President Trump's words today are meaningless"

Read Chairman @BennieGThompson 's statement on @realDonaldTrump's address today on the recent mass shootings in El Paso and Dayton: https://t.co/TMkdQGavtt pic.twitter.com/GmVsdxKNVV

— House Homeland Security Committee (@HomelandDems) August 5, 2019
The South Mississippi cases came out in State Auditor Shad White's annual report, released Monday, on the status of case where money is owed for criminal conduct and misuse of public funds. Collectively, they owed $1.8 million by the end of the 2018 fiscal year.
According to the report, about $1.9 million was still owed in South Mississippi by end of the current fiscal year in June.
Statewide, the report says, about $1.5 million was paid, with another $4,576 recovered to cover the costs of missing equipment.
The annual report is based on the status of formal and informal monetary demands in recent years.
During Monday's Lowndes County Board of Supervisors meeting, Alsobrooks says a supervisor moved that they ask the State Auditors Office to look into the finances.
Board members are also looking for other solutions to the budget issues.
Both Alsobrooks and Trustee Lance Walters say if an the State Auditors Office comee in, this will clear up recent rumors.
"I can understand why some people might suspect, based on words that's going around, that maybe there are some problems. It's there right as somebody that funds this college to request for an audit," said Dr. Alsobrooks.
A Canton alderman pleaded guilty and resigned. Courtney Rainey prepares for her second trial.
And a Canton man says his home was shot into in retaliation — and he believes it is tied to the Canton voter fraud case.
Canton Alderman Andrew Grant appeared in court Monday morning with his attorneys. He pleaded guilty to conspiracy to commit voter fraud with Courtney Rainey.