U.S. Senator Cindy Hyde-Smith (R-Miss.), a member of the Senate Homeland Security Appropriations Subcommittee, has announced the award of a $59.1 million contract to procure Mississippi-produced Light Enforcement Helicopters (LEH) for the U.S. Department of Homeland Security.
The Customs and Border Protection (CBP) contract is for the delivery of nine LEH aircraft, with an option for a tenth helicopter.  With the option, the total contract is valued at $65.7 million.  The LEH aircraft, used for border surveillance and law enforcement missions, will be manufactured at the Airbus plant in Columbus.
"Illegal activity on our borders is a continuous challenge, and these helicopters are valuable tools used by Customs and Border Protection to secure the border," Hyde-Smith said.  "This contract will allow talented aircraft manufacturers in Mississippi to play a key role in recapitalizing the LEH fleet."
WJTV to air GOP Runoff Gubernatorial Debate Tuesday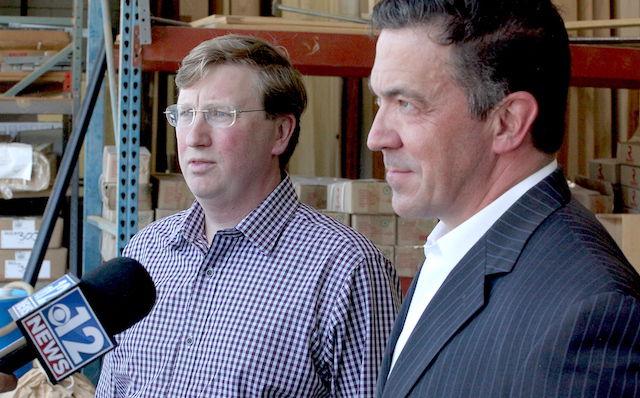 Chris McDaniel broke the ice, so to speak, when he said: "This is what hell feels like when it freezes over."
The three-term state senator stood before local media at Morgan Brothers Millworks and announced that he was backing longtime political nemesis Tate Reeves for governor in the Republican primary runoff against former state Supreme Court Chief Justice Bill Waller.
"No one has more reason to be displeased with Tate Reeves than I do," McDaniel said. "But this is not about personalities, it's about policies."
But the two have joined forces now because of "conservative principles," McDaniel said.
"Waller is not the right person," he said. "He supports Obama's Medicaid expansion and a higher gas tax. We don't need more taxation and more government."
The Magnolia State Has A Tax Cutter At The Top Of The Ticket, While The Pelican State Has A Serial Tax Hiker Up For Reelection 
Mississippi Lt. Governor Tate Reeves placed first in the August 6 Republican gubernatorial primary, receiving 48.9% of the vote, and now heads to a runoff primary election on August 27 that he is expected to win. If Lt. Governor Reeves is the GOP nominee for governor this November as is anticipated, Mississippi voters will have a candidate at the top of the ticket in Reeves who has a record of passing pro-growth tax reform. Not only that, Reeves has ruled out the enactment of tax hikes if he is elected governor.
Thanks in large part to the leadership of Lt. Governor Reeves, the largest tax cut in Mississippi history was signed into law by Governor Phil Bryant (R) in 2016. That tax reform package provided income tax relief to all Mississippi households by reducing the state income tax rate for the bottom tax bracket.
That 2016 tax reform plan, which was shepherded through the state legislature by Reeves, also made the state more economically competitive and increased the job-creating capacity of Mississippi-based businesses by phasing out the state's franchise tax. Only 16 states levy a franchise tax and lawmakers in states with these taxes have taken action in recent years to eliminate them. Thanks to the 2016 tax reform, Mississippi's franchise tax will be fully repealed in 2028.
Of the two candidates in the GOP runoff for governor, only Bill Waller has shown a willingness to do that, proposing to offset an increase in fuel taxes by reducing personal income taxes. His opponent Tate Reeves continues to reject any increase out of hand.
Similar stories can be found in rural counties with struggling hospitals, teacher shortages, and mental health challenges. Waller has put forth ideas to address these issues while Reeves has not.
Interestingly, the Republican nominee for lieutenant governor Delbert Hosemann also favors addressing these issues. Hosemann has said he is committed to the construction and maintenance of our roads and bridges, wants to reform Medicaid to ensure all Mississippians have access to affordable, quality healthcare and mental health care, and wants to increase teacher pay to deal with the teacher shortage. Hosemann hopes to pay for much of this from savings generated by "running the government better."
Of course, these are not the only issues facing rural counties: decreasing population, particularly from the loss of young people, while the proportion of elderly residents continues to surge; opioid addiction coupled with increased drug abuse and suicides; and physician shortages now coupled with nursing shortages are among the other issues causing rural distress.
Hughes seeks debate with Hosemann in Lt. Governor race
ANOTHER DEBATE CANCELLED: Stennis Institute of Government Event in Jackson, September 9th. My opponent had yet another scheduling conflict.

I have events on my calendar every day for the next 81 days, but I'll make myself available anytime for a debate. The voters deserve that! pic.twitter.com/y3UGbTnI6p

— Jay Hughes (@Jay4Mississippi) August 16, 2019
Taggart trades jabs with Gallo over Trump
Wow, Gallo admitted he used bogus data when he tried to bait Andy on the air this morning! And did you hear Gallo's voice crack when Andy called him out for running taxpayer-funded ads from the State Treasurer's Office at the same time Gallo carries her water in her race for AG? https://t.co/SMc6hUzSlA

— Andy_for_AG (@Andy_for_AG) August 16, 2019
Bryant says anti-Semitic behavior by Congressional Democrats troubling
Mississippi has had a strong relationship with Israel for many years. The anti-Semitic behavior we now see from Democrats in our Congress is extremely troubling. #neveragain pic.twitter.com/5knO09OooV

— Phil Bryant (@PhilBryantMS) August 18, 2019
WLOX – Sen. Cindy Hyde-Smith Interview
US Senator Cindy Hyde-Smith discusses the recent ICE raids in Mississippi and the impact of the Bonnet Carre Spillway opening.
Click here for Part 1 of the interview and then click here for Part 2.
This week, Mississippi Congressman Michael Guest toured Mississippi's 3rd Congressional District to speak directly to members of the farming community.
Congressman Guest visited with farmers in Adams, Amite, Franklin, Lincoln, Rankin, and Wilkinson Counties.
Hood to headline Democrats' Hamer-Winter banquet
Get your tickets!#Mississippi #Democratic Party Hamer-Winter #Awards Banquet is 1 away.
?Sat., 9/14, at 6pm
?The Gold Strike Casino – Tunica, MS
?Keynote Speaker: Democratic Nominee @HoodForGovernor, @msdemocrats, and you!
?https://t.co/x2jJRlfQPZ#JimHood#Election2019 pic.twitter.com/Rjr6CJ4cgp

— MS Democratic Party (@msdemocrats) August 16, 2019
In a Facebook post, Mississippi Ag Commissioner Andy Gipson shared the letter he received from the Environmental Protection Agency.
Gipson said, "I appreciate the United States EPA's response to my requests, one step in the right direction. Like I said at the Neshoba County Fair, "Washington, it's time to #finishthepumps!" 
Click here to hear some of Commissioner Gipson's speech at the Neshoba County Fair regarding the pumps.  (That portion of the speech begins around the 10:03 mark.
The first African American woman to head the American Medical Association talks with us in an exclusive interview. Dr. Patrice Harris is a psychiatrist who focuses on children. She explains why this issue is so important and needs attention sooner rather than later.
Childhood trauma, violence, crime, poverty, even bullying have almost become the norm according to healthcare professionals. A norm that far too often is ignored.
Dr. Patrice Harris says it is an issue we all should be concerned about.
Dr. Harris said, "as a child psychiatrist I know full well the importance of making sure that we are beginning early in the 3-5 year stage. We really have to make sure that we are developing what I call and others call socio-emotional health in our children."