Gov. Bryant, HUD Sec. Carson announce lead remediation grant in Jackson
It was great to attend @HUDgov's lead remediation grant announcement at Ms. Wall's home in Jackson . I appreciate @SecretaryCarson and his leadership on this issue. pic.twitter.com/eTRRD3YIII

— Phil Bryant (@PhilBryantMS) September 30, 2019
Democrats can get their "I ride with Hood" T-shirt or hat for a $30 donation
There are only a few "I Ride With Hood" hats and shirts left! Support the campaign and order yours today before they're gone! https://t.co/k4BwFL17Wu #MSgov pic.twitter.com/RJ5jMyB8sm

— Jim Hood (@HoodForGovernor) September 30, 2019
Hosemann releases new ad for Lt. Governor – "Running on a record"
Running on a record. #TeamDelbert pic.twitter.com/1TyKj3BQJa

— Delbert Hosemann (@DelbertHosemann) September 30, 2019
WXXV – Secretary of State candidates ready for Thursday debate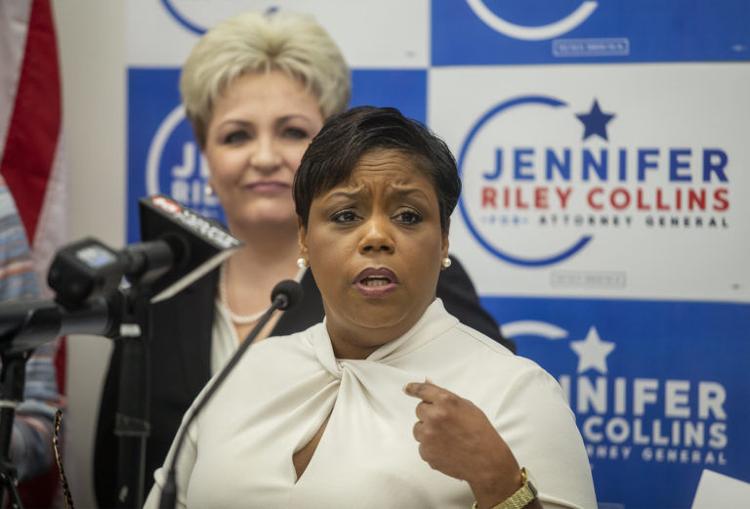 "My statement didn't ask for Gen. Hood's endorsement," Riley Collins, a native of Meridian, later told the Daily Journal. "The Mississippi Democratic party ruled that nominees are supposed to be supportive of other nominees on our ticket in the same election. I am a Democratic nominee. I support the Democratic nominee for governor."
The Hood campaign denies the allegation that they are working to get Fitch elected over Riley Collins…
…Bobby Moak, the chairman of the state's Democratic party and former state representative, told the Daily Journal by telephone that it is not written in the party's constitution that Democratic candidates must support other Democratic candidates, but he did say the state party supports all of the Democratic candidates currently running for office.
Moak emphasized while the state party does everything it can to support the Democratic candidates, the party does not tell the campaigns to endorse other candidates or tell them "how to run their campaign."
WTOK – Congressman endorses candidate for district attorney
President Trump's pick for Secretary of Housing and Urban Development, Dr. Ben Carson, was in Jackson Monday as news of Rudy Guiliani being subpoenaed to appear before the House broke…
…Dr. Ben Carson said, "And that is, if we go down a road where we define high crimes and misdemeanors any way we want to, it doesn't matter who's gonna be president. The other side's gonna be trying to impeach him. And, you know, when we set the bar too low, I think we create problems. That doesn't mean we shouldn't investigate; we shouldn't try to make sure that everybody's aware of what the policies are, but it's sort of like the boy who cried wolf too often and I'm not sure it's gonna set up a health environment in our country."
Carson was then asked if he felt this way even with the possibility that funds that were approved for Ukraine were held up.
"But we don't know that," he responded. "See, that's speculation. When you go back to, say, Nixon, we had evidence. We knew what was going on. When it comes to Bill Clinton, they had evidence. You know, this is like, how do you want to interpret it and how you interpret it kinda depends on your political persuasion. That was exactly what the founders were trying to prevent when they put the impeachment clause in. They didn't want it to become a political argument."
Wicker secures relief for Mississippi disaster victims
A federal fisheries disaster declaration for our state will open up relief for those affected by the ongoing crisis on the Gulf Coast. I will continue working so that, when the next disaster strikes, relief will not be so long in coming. #WickerReport https://t.co/o5l7gZ7699

— Senator Roger Wicker (@SenatorWicker) September 30, 2019
House Homeland Security Committee Chairman Bennie Thompson (D-Miss.) said the allegations in the whistleblower complaint describe "election interference" in a statement released Thursday.
"The declassified whistleblower report is clear. The President again, just as he did in 2016, sought out assistance from a foreign power to help in his reelection. This is election interference, plain and simple," he said.
Thompson called for increased election security, saying that Trump has "undermined" U.S. elections.
"The President has continually and persistently undermined the integrity of our elections and our democracy," he said. "With President Trump in office, the American people cannot currently expect our elections to be secure and free from foreign interference with status quo measures in place."
Hyde-Smith announces $4.1 million for workforce projects in rural Mississippi
These grants will allow workforce development projects in Mississippi to ramp up their efforts to expand opportunities for individuals and create a work-ready workforce. https://t.co/GkD5VVStVT pic.twitter.com/T6o6EzBOpE

— U.S. Senator Cindy Hyde-Smith (@SenHydeSmith) September 30, 2019
A packed house at Mississppi democratic headquarters, as Hinds County supervisor Darrel McQuirter puts forth an official election challenge against David Archie.
Archie defeated McQuirter in the democratic primary back on august 6th.
That committee is expected to look over exhibits, and facts from both men, and they will render a decision tomorrow at noon.
Under a proposed agreement in a racial profiling lawsuit, a Mississippi sheriff's department would adopt an "unbiased policing policy" and set new rules about traffic checkpoints and encounters with pedestrians.
Court documents show the Madison County Sheriff's Department and African American plaintiffs are both asking a federal judge to approve the agreement.
The American Civil Liberties Union of Mississippi filed the lawsuit in 2017, saying officers in the majority-white Jackson suburb have unconstitutionally targeted black drivers and pedestrians in majority-black neighborhoods and have disproportionately subjected them to searches and seizures.
WCBI – New Army Reserve Center Coming to Starkville
Beginning Oct. 1, Mississippi residents ages 16 and over will be able to complete their hunter education requirement online.
The internet course, Today's Hunter in Mississippi, may be found at the agency's website. Click the attached link.
The class is video-narrated and interactive. The certificate from the online course may be presented as a digital or paper copy to license vendors to purchase a hunting license.
Classroom courses will still be available statewide.
In a news release Monday, the 5th U.S. Circuit Court of Appeals said that Judge Priscilla Richman Owen will assume the chief judge position as of Tuesday. Owen takes over from Carl E. Stewart.
Owen graduated from Baylor University School of Law in 1977 and joined the firm of Andrews & Kurth in Houston. In 1994 she was elected to the Supreme Court of Texas.
Owen was appointed by President George W. Bush to the 5th Circuit and took the oath of office in 2005.