Ahead of visit, Trump cuts ad for Reeves
The sham vote on impeachment today is another example of the left's lunacy. They desperately want to undo the people's vote in 2016. We need to send them a message on Tuesday. @realDonaldTrump pic.twitter.com/fe560nnvWC

— Tate Reeves (@tatereeves) October 31, 2019
WTVA – President Trump to hold campaign rally Friday in Tupelo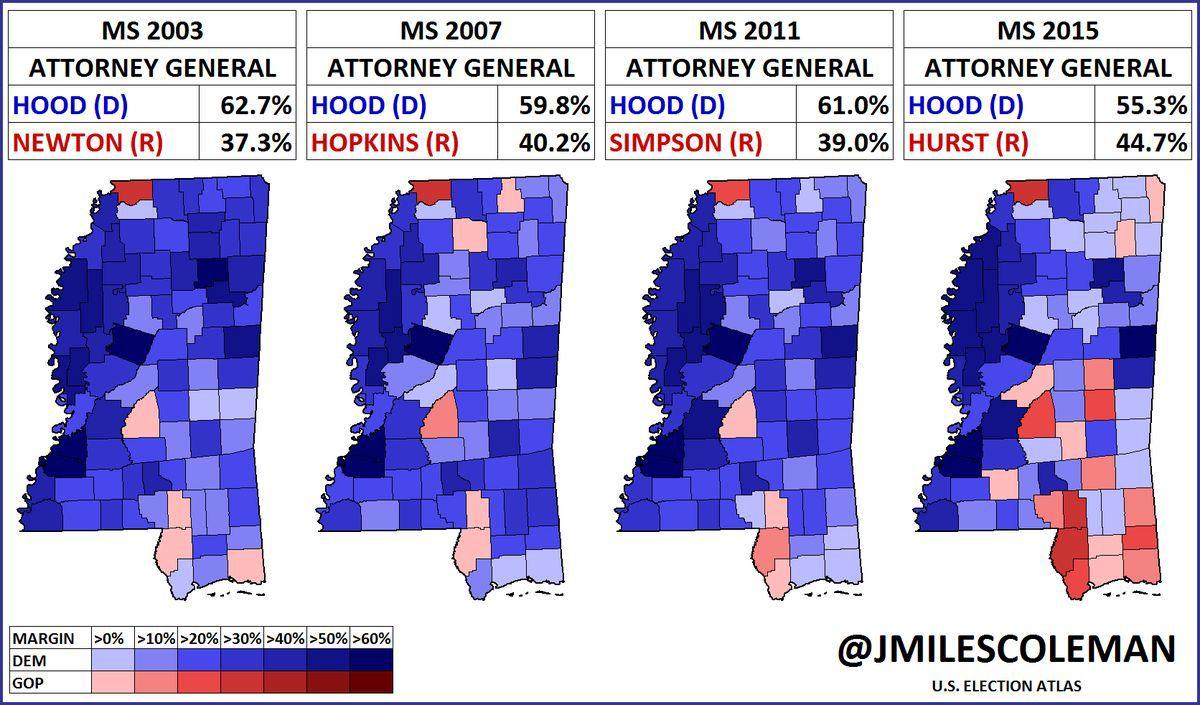 J. Miles Coleman, the associate editor of Sabato's Crystal Ball at the University of Virginia Center for Politics, thinks the decision to rally in Tupelo is rooted in the fact that the area is a majority white and was ancestrally Democratic, but is becoming more conservative.
Coleman, a native of New Orleans, has been watching the gubernatorial elections in Louisiana, Mississippi and Kentucky this year. He believes there are some comparisons between the races in Louisiana and Mississippi.
Hood won't force a House vote if he doesn't have plurality
On @MSTODAYnews podcast this week, @HoodForGovernor says he would not force a House vote if he didn't at least have a plurality after Election Night.#msleg #mselex #msgovhttps://t.co/YwwkwGW1SX pic.twitter.com/U0fh1hX5cV

— Yall Politics (@MSyallpolitics) October 31, 2019
The Mississippi Economic Council's Hobnob has been bringing politicians and business leaders together for the last 18 years. But it takes on new meaning in statewide election years.
Most of the folks in attendance likely know how they plan to vote in five days. But they have a big megaphone in communities around the state and the candidates know that.
"The election is next Tuesday," said Republican Tate Reeves. "Mississippi, it's time to choose."
"If you'll listen to what I've got to say, it may make a difference in your economic future," said Democrat Jim Hood.
Gov. Bryant: Unemployment has dropped nearly 70% since 2011
Unemployment payments have dropped nearly 70% since 2011 saving $150M, which we have used to lower premiums on business and pay for workforce training. #MSWorks https://t.co/hbBtEXtMix

— Phil Bryant (@PhilBryantMS) October 31, 2019
Congressman Thompson fully supports impeachment
I have repeatedly reiterated that I fully support the House's Impeachment Inquiry. Contrary to the President's description, this is not a 'witch hunt.' Rather, it is the United States House of Representatives fulfilling its constitutional obligation. #ImpeachTrump

— Bennie G. Thompson (@BennieGThompson) October 31, 2019
Of course, I voted YES! #ImpeachTrump

— Bennie G. Thompson (@BennieGThompson) October 31, 2019
Congressman Steven Palazzo (MS-4) voted against H. Res. 660, a bill that would authorize an impeachment inquiry within the House of Representatives. The resolution passed the House by 232-196. Palazzo released the following statement:
"The House has many other things we can be focused on besides a bogus impeachment inquiry. We've yet to pass appropriations for the upcoming fiscal year, the annual defense authorization act, or the United States-Mexico-Canada Agreement (USMCA). Instead, Democrats waste precious time to further their Liberal agenda of impeaching a successful president they disagree with. I do not support the illegitimate investigations and will continue standing against the bombastic attacks made against our duly elected President."
Congressman Kelly votes no on impeachment
Today I voted NO to the #ImpeachmentVote. This resolution denies @realDonaldTrump due process. #MS01 pic.twitter.com/qmCq1Niyoj

— Trent Kelly (@RepTrentKelly) October 31, 2019
Members of Congress from Mississippi and Alabama reacted to the near party line vote of 232-196 setting rules for the House impeachment inquiry of President Trump.
Cong. Michael Guest (MS-03), a Republican, voted against the measure.
"It is apparent by the process the Democrats have proposed that they have no interest in transparency, fairness, or due process. Democrats have been focused on one goal since the day President Trump was elected, to impeach a president the American people democratically elected, regardless of the consequences," said Guest. "In their mission, the Democrats have ignored the crisis on our border, they have neglected important trade agreements, and they have forgotten about our aging infrastructure. I urge my colleagues across the aisle to drop this political sham that is creating a schism across our nation so that we can address the issues that will create a brighter future for all Americans regardless of their political beliefs."
Senators Wicker, Hyde-Smith issue statements on House impeachment inquiry
My full statement on today's vote in the U.S. House of Representatives to launch an impeachment inquiry against @realDonaldTrump ⤵ https://t.co/crkDOGjoXD

— Senator Roger Wicker (@SenatorWicker) October 31, 2019
— U.S. Senator Cindy Hyde-Smith (@SenHydeSmith) October 31, 2019
Bryant commends Jackson on service
Laura Jackson, Executive Director of the Mississippi Department of Finance & Administration, will be retiring from state government after more than 30 years of service. She will be joining the administration at Mississippi College to serve as the Chief Financial Officer. pic.twitter.com/gJ8bMgp9r1

— Phil Bryant (@PhilBryantMS) October 31, 2019