Republicans have held most of the committee chairmanships under Gunn and Reeves — a result of the party holding strong majorities in both chambers.
About 38 percent of Mississippi residents are African American, and all but one of the black lawmakers are Democrats. Amid the partisan split at the Capitol, few black lawmakers have held high-profile chairmanships in recent years. Exceptions are Simmons in the Senate and Rep. Angela Cockerham, who has been chairwoman of the House Judiciary B Committee. Cockerham was previously a Democrat but was elected this year as an independent.
Women comprise nearly 51 percent of Mississippi's population but only about 14 percent of the Mississippi Legislature. So far, no woman has held the chairmanship of the four money committees — House and Senate Appropriations; House Ways and Means; and Senate Finance.
The U.S. Justice Department filed a Statement of Interest Monday supporting free speech on college campuses following a federal lawsuit in Mississippi.
The lawsuit was filed by a former Jones College student, J. Michael Brown, and the campus group Young Americans for Liberty regarding the college's policies requiring campus administrators to approve all "meetings or gatherings."
Brown claims officials at Jones College, formerly Jones County Community College, called campus police on him when he tried to engage with fellow students on campus about free speech and civil liberties, according a Justice Department news release.
The Justice Department said in the statement that public colleges cannot trample on students' First Amendment rights to free speech.
Wicker urges Congress to move past budget bricksmanship and partisan politics
When will enough be enough? Our country deserves better than budget brinksmanship and partisan politics. #WickerReport https://t.co/Kc7TaQVVDP

— Senator Roger Wicker (@SenatorWicker) December 9, 2019
The Mississippi Lottery Corporation announced its first $100,000 winner Monday.
Jimmy Keene of Pelahatchie won playing the $100,000 Jackpot scratch-off game. MLC says he was on his way to work when he stopped at Hwy. 51 Chevron in Ridgeland. He asked his boss to check it to make sure he was seeing the amount correctly. His boss told him to immediately return to the store. The store associate told him to head to the lottery office. Jimmy called his wife Becky to tell her the news.
Reeves launches inauguration website
Today, we're launching our Inauguration Day website as your one-stop shop with everything you need to know about the inaugural celebrations! Elee and I are so excited to join everyone for this historic moment! Check out our website for more details! https://t.co/dSFumbv6IV

— Tate Reeves (@tatereeves) December 9, 2019
SUNDAY, JANUARY 12, 2020
Great is Thy Faithfulness: A Celebration of Worship
Galloway United Methodist Church – 4 p.m.
TUESDAY, JANUARY 14, 2020
Inauguration Ceremony for the 65th Governor of Mississippi
Mississippi State Capitol South Lawn – 10:30 a.m.
Inaugural Parade
Downtown Jackson – 2 p.m.
Mississippi Governor's Mansion Open House
Mississippi Governor's Mansion – 2:30 p.m. to 4:15 p.m.
The home that has housed Mississippi's governors since 1842 is the second oldest continuously occupied governor's residence in the United States.
Celebrate Mississippi: Inaugural Ball
Mississippi Trade Mart – 7 p.m. to 11 p.m.
#MSSen2020: Espy already consistently jabbing at Hyde-Smith
Cindy Hyde-Smith has:
– Openly joked about public hangings
– Suggested making it more difficult for college students to vote
– Blocked gun reform legislation while a school shooting was happening

It's time for new leadership.

— Mike Espy (@MikeEspyMS) December 10, 2019
MDOT was recently awarded more than $5.6 million dollars by the Federal Transit Administration to purchase more buses and related equipment.
The state provides public transportation for citizens for access to health care, jobs, education, shopping and more.
It serves not only the elderly and disabled but those who find it cheaper than operating automobiles.
MDOT Director of Inter Modal Planning said transportation is offered from the Delta to the coast and from Meridian to Vicksburg.
Wicker touts human rights win in EU
Thank you @SenatorWicker for your important last minute intervention into this issue. It may have been what finally tipped the balance. So grateful for your partnership all the way from the beginning of the Magnitsky justice campaign https://t.co/QTQAjyDbNW

— Bill Browder (@Billbrowder) December 9, 2019
Congressman Thompson sends letter to DHS over death of child in CBP custody
Today, Chairs @BennieGThompson and @RepKathleenRice sent a letter to the @DHSOIG on new contradictory video evidence in the tragic death of a child in CBP custody, Carlos Gregorio Hernandez Vasquez. A speedy investigation is critical. pic.twitter.com/AFh62bCzLX

— House Homeland Security Committee (@HomelandDems) December 9, 2019
Mississippi has paid roughly $7 million to opposing attorneys in the long-running foster care lawsuit known as Olivia Y, but there is a disagreement over when the state should make future payments including a pending $103,274 bill.
Attorneys for plaintiffs suing the state wanted the pending bill paid in 30 days of the invoice and they want future payments twice a year, but state attorneys argue fees have historically been paid once a year through a legislative process known as a deficit appropriation.
However, Michael Bentley, an attorney for the plaintiffs, argues if payment is contingent upon legislative appropriation, attorneys may have to wait more than a year to receive payment for work performed between July 1, 2018 – Dec. 31, 2018 and more than ten months for work performed between Jan. 1, 2019 to June 30, 2019.
U.S. District Judge Tom Lee has scheduled a Jan. 28 status conference in the Olivia Y case, which will address the fees and other issues.
Palazzo, Kelly, Guest urge passage of USMCA
The Democrat-led Congress has had all of 2019 to work to modernize our outdated trade agreement, yet all House Democrats care about is impeaching the President.

Today, I join 159 of my Republican colleagues in urging Nancy Pelosi to take action. It's time to pass the #USMCAnow pic.twitter.com/58FwiVuQl3

— Cong. Steven Palazzo (@CongPalazzo) December 10, 2019
WXXV – Setting the stage for 2020 pre-Legislative briefing at Golden Nugget Casino Tuesday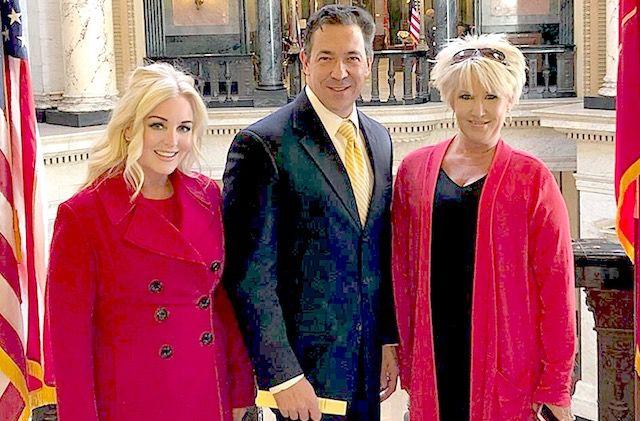 State Sen. Chris McDaniel will be the guest speaker at the Jones County Republican Women's monthly meeting at noon Wednesday at The Gables Event Center (1919 Bush Dairy Road, Laurel). 
City of Clarksdale passes Equal Pay Ordinance
While many contemplate this issue, today, 12/9/19, the City of Clarksdale became the first City in the MS Delta to pass an equal pay ordinance. It's important we correct this and let women know we value their skills and knowledge as much as any other. #TogetherWeStand

— Chuck Espy (@chuck_espy) December 10, 2019