Congressman Thompson takes shot at President Trump over Iranian strike
We have guided missiles and misguided men. -Dr. Martin L. King, Jr.

— Bennie G. Thompson (@BennieGThompson) January 3, 2020
Congressman Palazzo comments on Iranian airstrike
This sends the strong message that if you come for America, you will be met with lethal force. Another successful mission accomplished by our US military under President Trump's leadership.

— Cong. Steven Palazzo (@CongPalazzo) January 3, 2020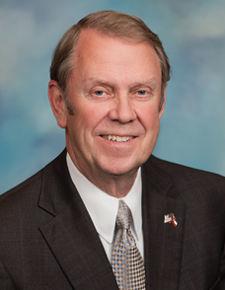 Preliminary numbers indicate that more Mississippians sought insurance through the federal exchange for 2020 than 2019, said Mississippi Insurance Commissioner Mike Chaney. Molina had its first year offering plans in 19 counties including five in Northeast Mississippi. Ambetter has reported its numbers went up by about 10,000.
As long as enrollees pay their premiums, that coverage should be uninterrupted through 2020. What will come for 2021 remains to be seen.
"Right now, we see no change at all," Chaney said. "We've got fairly smooth sailing from now until October."
But Republican Gov.-elect Tate Reeves strongly opposed what he termed "Obamacare expansion" — and he won. Now, despite the recent bipartisan momentum, it appears unlikely the Mississippi Legislature will pass expansion in the new session that starts Jan. 7. Even if legislators did approve a bill, Reeves could veto it.
"The people voted no," said Sen. Hob Bryan, D-Amory, vice chairman of the Senate Medicaid committee and an expansion supporter. He said Reeves was "clear about his platform" opposing Medicaid, and beat Democrat Jim Hood by about six points.
There's still a chance expansion gains traction considering Lt. Gov.-elect Delbert Hosemann campaigned for it. As leader of the Senate, Hosemann will take over for Reeves in a role that wields significant power shaping state policy…
…The Republican chairmen of both the House and Senate Medicaid committees, Rep. Chris Brown of Nettleton and Sen. Brice Wiggins of Pascagoula, have also said that they are opposed to expansion, though their leadership roles could change as a new legislative term begins.
"I'm not really sure why it's such a hot topic, to be quite honest," Wiggins said of Medicaid expansion. "It makes for good copy."
Beginning his first term as Commissioner, Maxwell previously held the office of Mayor for the City of Pascagoula. Maxwell is a United States Marine Corps veteran, retired law-enforcement officer and successful businessman. He has previously worked for the PSC serving as Commissioner Curt Hebert's Chief of Staff.
"I'm grateful and honored to serve in this role as Public Service Commissioner," Maxwell said. "The support throughout this entire process has been truly humbling and I can't wait to get to work for the people of Mississippi."
Rep. Jansen Owen, of House District 106, held a town hall meeting in Lumberton Thursday evening to listen and talk with the community about what they feel needs to be addressed.
"Lumberton cares about Lumberton," Owen said. "They want to see this community grow. They want to see their home grow. I'm excited to see some of the things we might can accomplish. There's a lot of people here who are very enthusiastic about Lumberton's future, and it's a positive one. I'm excited to be a part of that."
Owen says he has big goals for not just Lumberton, but the entire district.
Glenn McCullough, Jr., the executive director of Mississippi Development Authority, will step down at the end of the month.
McCullough, the former Tupelo mayor, will step down on January 30 and return to a private life.
"It has been an honor to serve at the helm of MDA with our good, talented people and partners to win economic development opportunities for Mississippians," McCullough said in a statement. "I appreciate Gov. Phil Bryant allowing me to serve in this position and look forward to assisting with the transition of a new director."
The Mississippi Department of Corrections is continuing a statewide lockdown at all prisons across the state.
In a statement released Thursday MDOC said that movement of inmates will be limited to only emergencies. As a result, there will be no visitation this weekend.
Interview and screening for potential correctional officers on Saturday at the three state prisons won't be affected.
There were a few attempts to legalize hemp production in the 2019 session, but all failed.
Now, as farmers in surrounding states are already cultivating and selling hemp, Mississippi remains one of only three states where production is illegal.
A task force on hemp production met three times last year and weighed pros and cons of the issue. Farmers crowded into a room in the Capitol to hear about a new crop they might soon plant. Agricultural experts explained the benefits and hardships of growing hemp without taking a hard stance on the issue, but law enforcement officials on the task force were deeply critical of hemp legalization.