WJTV – Gov. Reeves: Inmates being transferred out of Unit 29 at Parchman
First Lady Reeves to lead volunteer cleanup effort
He announced First Lady Reeves will be leading a volunteer effort to help pick up trash among the areas impacted by the flood waters. You can find details on how to help on her social media @firstladyofms pages in the coming days. #msleg

— Yall Politics (@MSyallpolitics) February 19, 2020
Ophthalmologists and members of the Mississippi State Medical Association lined the steps in the Capitol Building, Wednesday.
They believe that optometrists are not trained for the procedures that Senate Bill 2070 would allow them to perform if passed.
Dr. Kimberly Crowder wants to kill the bill; "they would not be required to go back to medical school and to do a surgical residency to perform some of these medical procedures."
Dr. Evan Davis with the Mississippi Optometric Association disagrees; "the people who graduate from school today are already taught to do these procedures and what's happening right now is a lot of our best and brightest optometrist, and even people who are originally from Mississippi, when they graduate they're looking around at other states."
YP – MS House Ed Chairman to kill bills adverse to homeschoolers
@MSHouseOfRep Education Chairman Bennett likely to kill bills adverse to homeschool families. #msleg https://t.co/Y6NrH9MbYd

— Yall Politics (@MSyallpolitics) February 19, 2020
"We've got confirmation from Gov. Reeves that he will be here Tuesday at 11 a.m. at the Old Railroad Depot on Whitworth Avenue for an economic development announcement," Combs said.
Reeves will at that time provide to the public details of what's in store for the area.
In Tuesday morning's Lincoln County meeting, Combs told supervisors that the announcement was related to what had previously been discussed in closed-door executive sessions and involved Linbrook Industrial Park. Addressing the city board, Combs said he would remain after the public meeting for an executive session "to fill in the details."
Sen. Wicker meets with Slovakia's Minister of Foreign Affairs
Today I met with Miroslav Lajčák, Slovakia's Minister of Foreign Affairs. We discussed the importance of NATO and the EU. These alliances are critical to countering Russian influence in Europe. https://t.co/uqrSDBmI9Z

— Senator Roger Wicker (@SenatorWicker) February 19, 2020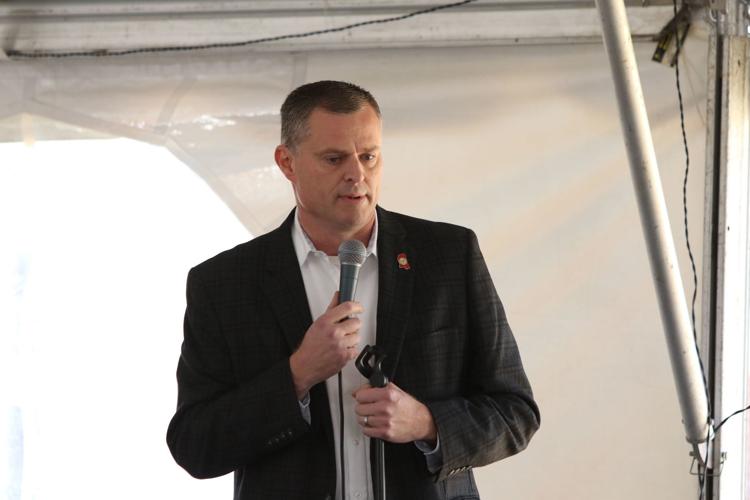 Local legislator Sen. Chad McMahan said he remains in talks with state government leaders about the best way to help families with children who require intensive medical care and are facing the loss of Medicaid coverage.
McMahan, a Republican from Guntown, filed a bill attempting to help families facing a denial of eligibility for the Disabled Children Living at Home category of Medicaid.
However, McMahan now says his bill will likely not move forward, but he expects other avenues of assistance will be explored.
Auditor: Former Walls Police Chief arrested for embezzlement
As long as I hold this position, the Auditor's office will continue to hold officials accountable when they use their offices to benefit themselves or their family.

This sort of illegal self-dealing will not be tolerated. https://t.co/6nxfIlahqb

— Shad White (@shadwhite) February 19, 2020
Congressman Guest to Elizabeth Warren: You're welcome to lend a hand
Sen. Warren, if you'd like to help Mississippi, you're more than welcome to come thank our first responders and lend a hand to the hard-working Mississippians impacted by the flood instead of using our state to advance your political agenda. https://t.co/iblfB48eS8

— Congressman Michael Guest (@RepMichaelGuest) February 19, 2020
The Hattiesburg-Laurel Regional Airport will be receiving over $660,000 in federal funding after being announced with other airports in the state as a part of the Airport Improvement Program.
U.S. Secretary of Transportation Elaine L. Chao announced that the U.S. Department of Transportation will award $7.7 million to twelve Mississippi airports for safety and infrastructure use as the investment is a part of a $520.5 million national investment in airports across the country.
YP – Wicker statement on Keesler Medical Center
Senator @SenatorWicker Statement on Keesler Medical Center #mssen READ MORE>> https://t.co/DxPoZM5pD3

— Yall Politics (@MSyallpolitics) February 19, 2020