WJTV – Presidential hopefuls campaign in Mississippi
Sunday afternoon, volunteers with the Bernie Sanders campaign gathered in Jackson.
Actor Danny Glover held campaign organization events in support of Sanders at Calloway High School.
The group walked around Jackson neighborhoods going door to door to campaign for Sanders… hoping to win votes.
Glover says one of the many reasons he shows his support for Sanders is because of his past history with the civil rights movement.
CLARION LEDGER – Jackson mayor Chokwe Antar Lumumba speaks at Bernie Sanders rally
Sanders, Eliason call for prison reform, "stand with the incarcerated"
Like @BernieSanders, I also stand with the incarcerated and will fight to reform our prison system and end mass incarceration. American criminal justice is racial injustice. #MSPrisonReformNow https://t.co/iECVwk5bWn

— Antonia Eliason for Congress MS-01 (@Antonia4MS1) March 7, 2020
Jensen Bohren is running as a self-described Democratic Socialist and describes himself as a person who is not rich and believes this perspective gives him a better opportunity to represent the people of Mississippi…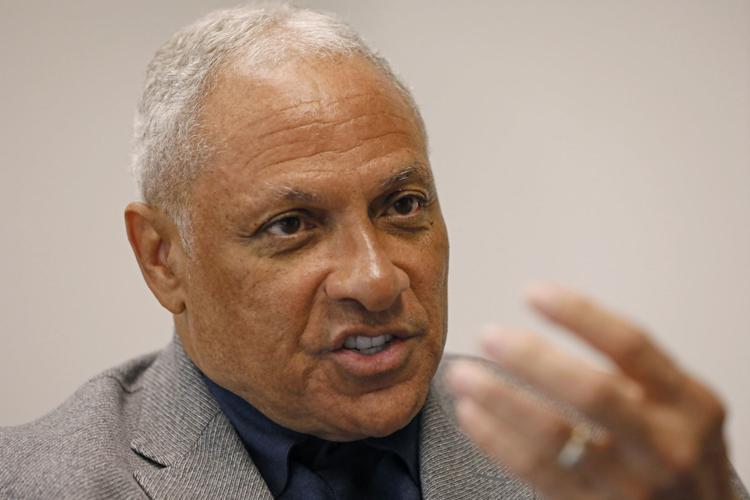 …Mike Espy, a former U.S. representative for Mississippi and former agriculture secretary under President Bill Clinton, is hoping to once again represent the state in Washington 25 years after last holding public office…
…Tobey Bartee did not respond to requests for comment for this article. He has served in the U.S. Navy and worked for the U.S. Department of State and the U.S. Department of Homeland Security.
Also on Friday, Congressman Steven Palazzo said whether it's Joe Biden or Bernie Sanders, he's confident President Trump will win a second term.
"We have a record economy, unemployment is down, wages are up," Palazzo said. "We've rebuilt the military, we're securing our southern and maritime borders. He's doing everything that he said he was going to do and I feel like we're safer as a nation and more prosperous as a nation."
Lee, 26, of Bailey, graduated from the University of Mississippi in 2017 and has been pursuing a degree in social work.
If elected, her priorities would include ensuring access to fresh food and affordable housing and implementing universal healthcare.
"I'd like to see mobile farmer's markets and co-ops come to the area so that people don't have to go far to get that fresh food, so that it is affordable, grown locally, so you cut down on transportation costs," she said.
She is also calling for free public education.
Mississippi legislators have killed bills that would either ban or regulate kratom, an herbal drug that can be used for pain relief.
Kratom is currently unregulated in most parts of the United States, but has been outlawed by a few local governments in Mississippi amid concerns that it can be harmful.
Mayor George Flaggs Jr. often uses the line "relationships matter" when there are those who question or want to discuss further his trips to Washington D.C., his appearances with President Trump, his efforts to elect Gov. Tate Reeves and working relationships with other top Republicans.
The questions and discussions are often sparked by Flaggs' leadership roles while serving in the then Democrat-controlled Mississippi Legislature and the years running for political office as a card-carrying, flag-bearing member of the Democratic party.
Today, as a declared Independent, Flaggs is a pragmatist. Democrats no longer control the Mississippi House or Senate. Democrats no longer hold any constitutional office in Mississippi, and with the lone-exception of U.S. Rep. Bennie Thompson, a congressman who has found it hard to garner voter support in Warren County, there is not a Democrat representing Mississippi in Washington.
Sen. Hyde-Smith and Sen. Marco Rubio working to Lock the Clock
Don't forget to change your clocks tonight to #SpringForward. If you dread doing that as much as I do, then you know it is time to #LockTheClock! @Marcorubio and I are working on that. Read more here: https://t.co/8REmuOeWyt #FoxNews pic.twitter.com/HFeVJ4UA7i

— U.S. Senator Cindy Hyde-Smith (@SenHydeSmith) March 7, 2020
In each of these cases Reeves will be challenged not to continue the past but to significantly change future directions. Prisons were under federal court oversight for decades and face new federal scrutiny now. Mississippi's abuse of federal TANF funds will not only have its day in criminal court but will also face federal review. And Mississippi's not-really-so-terrific economy needs a major upgrade.
Act one of how this will play out will be Reeves' picks to head MDOC, MDA and DHS (attorney Bob Anderson named last week). The subsequent new and improved stories promise to be interesting.
Gov. Reeves proclaims Wildfire Prevention Month
We are blessed with nearly 20M acres of rich forestland across our great state. March has historically been one of the highest wildfire times for MS. I'm proud to proclaim this Wildfire Prevention Month and urge everyone to join in helping to reduce the burning of our forests. pic.twitter.com/KoYMmJ4X0B

— Tate Reeves (@tatereeves) March 7, 2020