GO VOTE, MISSISSIPPI!
Today is the Mississippi Primary Election across the state.  Voters will decide their party's nominee for President, U.S. Senate and U.S. House of Representatives.
Polls are open from 7am to 7pm.
Follow Y'all Politics on Twitter and Facebook throughout the day for election news as it develops.
YP – Biden locks down Mississippi Democratic Primary
@JoeBiden locks down Mississippi Democratic Primary #Election2020 #mselex https://t.co/F8mxlGJ3N5

— Yall Politics (@MSyallpolitics) March 9, 2020
If you ask folks what's driving them to the polls for primary election day, you'll get a mixed bag of answers. For Democrats, they want change.
"We already know who we're going to vote for and everything," said Barbara Williams. "I think people are ready for a change. We've been kind of going through since the last election. We just want to get out and try to make a difference. It's an overall feeling. I want to see some change and some different people."
Some Republicans want to keep those seats red but say this about the primaries:
"I don't pay too much attention to the other side because I know there's no chance I'm going to vote that way," explained Adam Sturdivant. "As a Christian-conservative and someone who will vote for President Trump, it's not the most exciting thing in the world, but I will go out and support him."
YP – President Trump endorses Palazzo, Guest
President @realDonaldTrump endorses @CongPalazzo, @RepMichaelGuest for re-election in @MSGOP Primary. #mselex #Election2020 https://t.co/2uJfCIKtnt

— Yall Politics (@MSyallpolitics) March 9, 2020
YP – Life Equality Act to limit abortions based on certain circumstances
#BilloftheDay: Life Equality Act would limit abortions based on certain circumstances #msleg READ MORE>> https://t.co/uwlpeTK8hd

— Yall Politics (@MSyallpolitics) March 9, 2020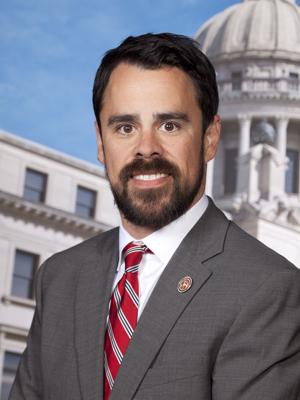 A local lawmaker has filed a bill in the Mississippi Legislature that would revise the regulations currently in place for a "tasting" or "sampling event" hosted by a liquor store.
State Rep. Shane Aguirre, a Republican from Tupelo, filed House Bill 1427, which would allow package liquor stores to serve no more than eight ounces of wine to one person and no more than four ounces of distilled spirits to one person at a sampling event.
Aguirre said the current version of the legislation likely won't be the final version of the bill and there's some discussion among other lawmakers to amend the proposed law to reduce the amount of liquor served at the sampling event.
YP – MS Senate considering Ban the Box legislation
The #Mississippi Senate is set to consider 'Ban the Box' legislation after it passed in committee #msleg READ MORE>> https://t.co/fyxJjYkBLU pic.twitter.com/flpOS50geW

— Yall Politics (@MSyallpolitics) March 9, 2020
Wicker: Coronavirus is no cause for panic
Americans are right to be concerned about the #coronavirus. However, as our country deals with a very real threat, it is important for us not to allow emotion to obscure the facts. #WickerReport https://t.co/7qUamHbQl3

— Senator Roger Wicker (@SenatorWicker) March 9, 2020
SUNHERALD: Ex-Ocean Springs mayor is fighting her public drunk charge
She has said she was walking down her driveway off Washington Avenue, fell and hit her head. https://t.co/iENIBXjZrZ

— Sun Herald (@sunherald) March 10, 2020