Watson said supplies for elections will be coming in two phases. The first phase will arrive in time for the runoff and be distributed to counties that need them. These supplies will come out of the $4.7 million in CARES Act dollars that were distributed directly to SOS offices around the nation…
…Election Commissioners said things will definitely look different this year. Training for poll workers will be different to ensure measures are taken to protect from the Coronavirus. The Legislature confirmed that they would be covering the extra costs for those needs as a plan is implemented.
To encourage more people to become poll workers, since there is anticipation for a higher demand, Watson said they are reaching out to the Bar Association, bankers and realtors. They have offered Continuing Education Credits for anyone willing to be trained to work the polls.
Reeves cancels presser so as not to interfere with Floyd memorial
George Floyd's memorial service will be carried on TV this afternoon. I don't want to interrupt that with our briefing. I'll be on the coast tomorrow—meeting with emergency operators as we enter hurricane season. We'll have a press conference there! God bless, Mississippi.

— Tate Reeves (@tatereeves) June 4, 2020
MS Legislative Black Caucus pushes for legislation to address "police brutality," says colleagues don't have same urgency
Let's be clear: We have pushed for legislation to address police brutality. Unfortunately, our colleagues haven't met this issue with the same level of urgency. We can't let this happen again. #GeorgeFloyd #BreonnaTaylor #AhmaudArberyhttps://t.co/2qfyNmltNL pic.twitter.com/3WYTH5419U

— Mississippi Legislative Black Caucus (@mlbcofficial) June 4, 2020
Mike Espy, the Mississippi Democrat candidate for the U.S. Senate, will be protesting in the capital city this weekend.
"I will be joining Black Lives Matter Mississippi in Jackson on Saturday, June 6 at 3:00 PM CT," Espy said in a statement.
YP – Wicker supports Paycheck Protection Program
Senator @SenatorWicker Supports Paycheck Protection Program Update #mssen READ MORE>>https://t.co/cRdQnZuPxM

— Yall Politics (@MSyallpolitics) June 4, 2020
YP – Hyde-Smith reminds of June 15 deadline to comment on Corps Yazoo Backwater Project
Senator @SenHydeSmith reminds flood victims, Mississippians not to miss June 15 deadline to comment on Army Corps Yazoo Backwater Project #mssen READ MORE>>https://t.co/p2GPUG3XiB

— Yall Politics (@MSyallpolitics) June 4, 2020
Congressman Thompson: Deportations should end
Chairman @BennieGThompson & Homeland Dems wrote @ICEgov on the spread of COVID19 in its detention facilities. Not enough PPE. Not enough soap. Too many transfers.

2 immigrants in ICE care have died of COVID19.

Deportations should end. Alternatives to detention should be used. pic.twitter.com/zYL94TUt0n

— House Homeland Security Committee (@HomelandDems) June 4, 2020
While all schools are currently offering some type of summer learning, the main focus now has turned to reopening in the fall.
"I don't think there's going to be a switch that's flipped and you're going to see 100% of the children in the building. I really do not," said Wright. "I think all of the superintendents now are pivoting to the reopening of schools… What will it take to reopen and what will be a safe way to do that?What do schedules need to look like? What does cleanliness need to look like? What do all types of activities need to look like, extracurricular activities?"
Wright continued: "What do schedules need to be thinking about? Do we need to bring some students in the afternoons? Do we need to bring certain grade levels in? One thing it's shown us is that our little ones, particularly pre-K to (grade) 1, we need to make sure they are having as much facetime with teachers in terms of learning to read. That is one thing I think all of the teachers on my advisory council have said is that, yeah, we need those little ones right in front of us when it comes to teaching them to read."
Reeves thanks Trump Administration for COVID-19 aid
Can we take a moment to appreciate the unprecedented White House support for states battling COVID? The President extended Title 32 orders for our National Guard—massive. We could not have done rapid testing of all nursing homes without it! Thank you @realDonaldTrump and @VP!

— Tate Reeves (@tatereeves) June 4, 2020
MSDH: Coronavirus cases at 16,650 with 794 deaths
Today MSDH is reporting 238 new cases of COVID-19 in Mississippi, with 12 new deaths. The total of #coronavirus cases since March 11 is now 16,560, with 794 deaths. See more case details and important preventive steps at https://t.co/QP8mlJ41AN pic.twitter.com/kCzb7G2J0Q

— MS Dept of Health (@msdh) June 4, 2020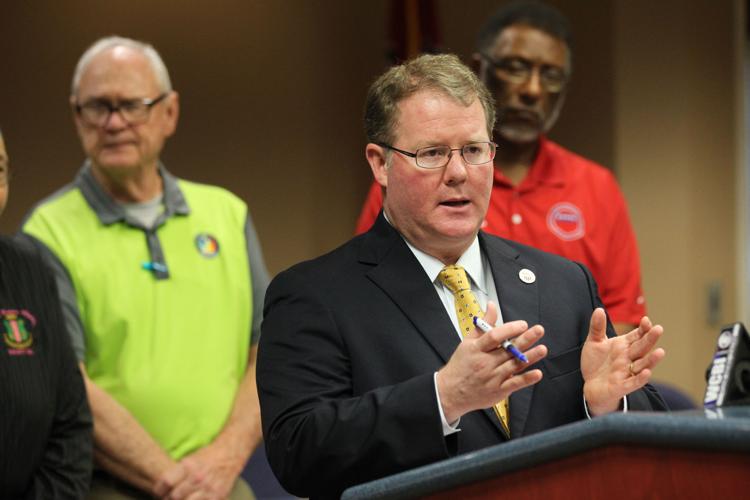 Current Tupelo Mayor Jason Shelton in a social media post Thursday morning announced that he intends to run for re-election and seek a third term as mayor of the All-America City.
"For the next year I will continue to work hard to earn your trust and support, but I will not make decisions because they are politically popular or politically expedient to bolster my chances of getting re-elected," the post read.
The announcement does not mean the mayor is officially in the race. The qualifying period for Tupelo municipal elections begins in January 2021, and the election will take place in June 2021.
The Newton upholstery plant, built in 1960, employs about 300 people, accounts for approximately 10% of the La-Z-Boy branded business total upholstery production and manufactures La-Z-Boy recliners, motion sofas and classics (high-leg recliners), according to the news release.
The Newton-based integrated internal supply functions will remain in operation, the company stated. Approximately 170 people work across these areas and will remain with the company, the company stated.