Coaches from all eight of Mississippi's public universities rallied at the state Capitol on Thursday calling for Legislators to take action and change the state flag.
"I had a meeting with our team the other day and I could tell a hurtfulness in our locker room, a confusion in our locker room, because they want change," said Kermit Davis, head basketball coach at Ole Miss. "It's the right thing to do. Mississippi needs to have a flag that is great for all the citizens in our state."…
…Speaker of the House Philip Gunn also made remarks at the press conference. He said that the presence of these individuals alone at the Capitol today continues to speak to the importance of this issue.
"This entire state is screaming for change," said Gunn. "This is an issue that needs to be resolved, and resolved quickly. The longer it goes, the more it festers and the harder it will be to change later on."
Former Governor Bryant supports state seal flag
Former Governor @PhilBryantMS speaks out on the design of the #Mississippi state flag. He recommends adding the state seal with the "In God We Trust" moto #msleg #msstateflag https://t.co/8WC5tYDKJm

— Yall Politics (@MSyallpolitics) June 25, 2020
State Sen. Wiggins jabs at Sen. McDaniel over flag
Folks, this is the face of your flag status quo. Remember what he did to @SenThadCochran!? I do. Is this who you want to align with? #msleg https://t.co/LQPM7Rqlqr

— Sen. Brice Wiggins (@bricewigginsMS) June 26, 2020
Sen. McDaniel talks on holding the line in MS Senate
Ag Commissioner Gipson wants vote of the people on flag
As I stated yesterday, it is my position that any change in the state flag should be made by the people of Mississippi in a statewide vote. For me, it's a basic principle: I believe the people of Mississippi must have the right to vote on an issue the people previously decided.

— Commissioner Andy Gipson (@CommAndyGipson) June 25, 2020
Matt Wyatt on the history of the MS flag
MSGOP chairman says now is the time for flag change
New this morning: @MSGOP chairman @LucienSmith issues statement on #msflag pic.twitter.com/YGGE8JLNyh

— Yall Politics (@MSyallpolitics) June 25, 2020
State Rep. Oliver supporting flag change
Now @msgop Rep Karl Oliver says he will vote for flag change. #msflag #msleg pic.twitter.com/t17RCE0EvG

— Yall Politics (@MSyallpolitics) June 25, 2020
Sen. Wicker pushes flag change
Let's adopt a new and unifying flag. Our state needs to make this difficult but necessary change. Put this issue in the rearview mirror and then move on. pic.twitter.com/JEeVNDWwN4

— Senator Roger Wicker (@SenatorWicker) June 25, 2020
#MSSen: Espy joins black clergy in call for flag change
I was honored to join Black clergy and elected officials from all over the state at the Mississippi State Capitol this morning.

A lot of us have been fighting for this change for a long time, and we are hopeful that our current flag could be coming down soon. #TakeItDownMS pic.twitter.com/AFdmN8XqLc

— Mike Espy (@MikeEspyMS) June 25, 2020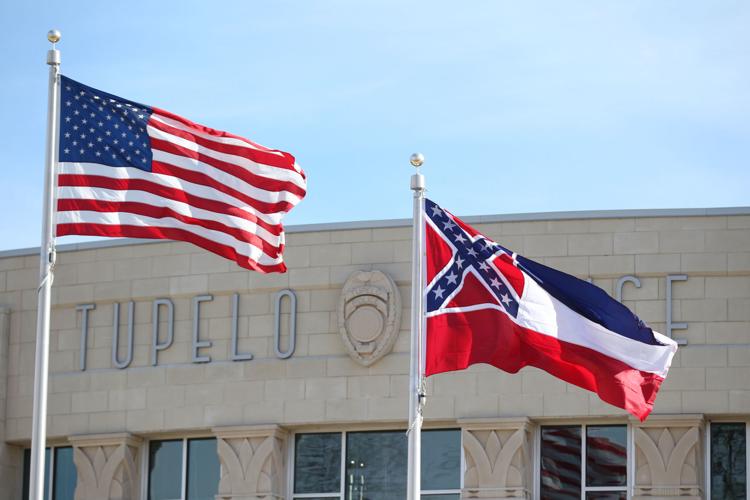 Mayor Jason Shelton's administration announced on Thursday the intent of the City Council to remove the current Mississippi flag from municipal property until a new flag is approved, whenever that may be.
In a statement released Thursday afternoon, Shelton's administration said that a majority of the current council members have requested that orders be drafted to remove the state flag from all locations where it currently flies, replacing it with the City of Tupelo flag.
According to a release on Wednesday, the Democratic National Convention Committee (DNCC) announced their convention plan to broadcast from Milwaukee and across the nation, "in a convention geared to reach out to all Americans."
The Democrat Convention will include four nights of programming from August 17-20, 2020.
The DNCC announced that Mississippi Congressman Bennie Thompson (MS-02) will serve as Permanent Chair of the 2020 Democratic National Convention. The Convention Chair presides over all official convention business.
Thompson takes on BLM mantra
The system is not broken. It's operating how it was designed. So, we're going to have to fix it. ✊????

— Bennie G. Thompson (@BennieGThompson) June 26, 2020
Gov. Reeves vetoes his first bill
Just had to veto our first bill. It was a decent idea—require ballots for voting to be filled out in ink. Then someone amended it to say you can fill it out with a pencil. That's not allowed now! Seems like making ballots easy for someone to erase and rewrite is asking for fraud!

— Tate Reeves (@tatereeves) June 25, 2020
"We've got to get the broadband gap filled in Mississippi and give people in rural communities the same quality of life of people in more populated areas," said Presley.
Legislators are currently handling a few bills to address broadband expansion like SB 3946 which is part of the COVID-19 bills. Entitled the "COVID-19 Connectivity Act," this bill would establish a grant program to be administered by the Public Utilities staff in order to expand broadband service to underserved areas. EPA's would be eligible to apply for the grant dollars in order to expand service. This bill passed in the Senate and will now head to the House for consideration.
YP – Sen. Hyde Smith to Democrats: Stop looking for ways to divide the American public
.@SenHydeSmith : Take up police reform bill & 'Stop looking for ways to divide the American public' #mssen READ MORE>> https://t.co/C4S7mKKhve

— Yall Politics (@MSyallpolitics) June 25, 2020
Guest: Democrats won't condemn violence or oppose defunding police
Democrats just blocked a resolution to condemn the violence across our nation and oppose efforts to defund the police. This is wrong. It's more important than ever that we stand as a united country to protect the lives of citizens and our hard-working police officers.

— Congressman Michael Guest (@RepMichaelGuest) June 25, 2020
MSDH reports nearly 1100 new Coronavirus cases in MS in one day
Today MSDH is reporting 1,092 new cases of COVID-19 in Mississippi, with 5 new deaths. The total of #coronavirus cases since March 11 is now 24,516, with 1,016 deaths. See more case details and important preventive steps at https://t.co/QP8mlJ41AN pic.twitter.com/gTxYq9xeRL

— MS Dept of Health (@msdh) June 25, 2020
"I'd say this is a surprise but this is not even remotely a surprise," State health Officer Dr. Thomas Dobbs said about the increase.
State Epidemiologist Dr. Paul Byers says the spike cannot be tied to any one event, but transmission is coming from groups of people who are gathering together and not social distancing or wearing masks.
Reeves, Dobbs plead with citizens to heed guidelines on COVID-19
Please listen. We've been beating this drum for months. Dr. Dobbs is graphic in his warnings to us about where this heads. If people just follow current orders and aren't reckless, we can beat this.

This message from almost two months ago applies doubly today: pic.twitter.com/1AI0tVj6Mw

— Tate Reeves (@tatereeves) June 25, 2020