The Mississippi Center for Medically Fragile Children, the first-of-its-kind in the state, is set to begin construction in 2021, as announced in December 2019.
The medical status of its patients will vary. Some children who will live at this center have been injured in accidents. Others have congenital or genetic conditions, and still others may be dependent on ventilators or feeding tubes to survive, with many often relying on wheelchairs for mobility.
What all of these cases have in common is that the life saving care necessary for these children comes with a tremendous amount of expense, mostly borne by the hospital system or the state. Costs regularly run into the millions of dollars for the 24/7 care in a hospital setting, and several of the children will unfortunately require indefinite medical care.
Governor Reeves tweets cheat sheet of executive orders
For all COVID-19 related executive orders and further information to help you through these difficult times, go to our website at https://t.co/LIwMSjuJbw. pic.twitter.com/8Rs8726LOj

— Tate Reeves (@tatereeves) July 31, 2020
MSDH: Coronavirus cases top 60,000
Today MSDH is reporting 672 new cases of COVID-19 in Mississippi and 10 deaths. The total of #coronavirus cases since March 11 is now 60,553, with 1,703 deaths. See more case details and important preventive steps at https://t.co/QP8mlJ41AN pic.twitter.com/wN16erGKQR

— MS Dept of Health (@msdh) August 2, 2020
For the first time in maybe forever the annual Neshoba County Fair won't be held this year. It's always the premiere political event in Mississippi. So the media outlet Y'all Politics has come up with a virtual alternative called "On the Stump" where you'll hear from state and federal leaders. Here with details is Y'all Politics Managing Editor Frank Corder.
YP – Mississippi Coast doctor on hand as President Trump signs orders aimed at lowering drug prices
Last Friday, President Donald Trump signed four executive orders aimed at lowering prescription drug prices.
Per a White House release, the President signed four sweeping executive orders which together will significantly lower the cost of prescription drugs while increasing access to life-saving medications such as insulin…
…A Coast doctor was on hand to witness the signing of the orders by the President. Dr. Amber Colville practices in Ocean Springs and lives in Pascagoula. She joined Y'all Politics to talk about being invited to the ceremony, standing on stage with the President, and what these orders mean for patients.
What will the next round of pandemic help look like? David Elliott had a chance to talk with Congressman Steven Palazzo about that during Sunday's broadcast of WLOX News This Week.
Democrats and Republicans have been divided on what this next round of help should look like. Congressman Palazzo told us what he sees as the best solution.
"I would love to see 100% targeted relief for the coronavirus alone. And I do think if they would include the House Republicans, we would have seen something more like that," Palazzo said. "But now the best bill out there is the Senate Republican bill that's probably the only bill the president is going to sign."
Senator Wicker comments on TikTok
The divestment of TikTok's U.S. operations and purchase by a U.S. company would be a win for U.S. consumers. But tight security measures need to be part of any deal in order to protect consumer data and ensure no foreign access.

— Senator Roger Wicker (@SenatorWicker) August 2, 2020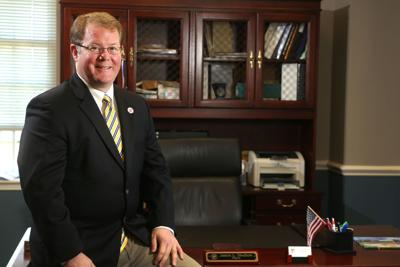 Though I could perhaps remain politically popular locally by not speaking out against the President or his acolyte, Governor Reeves, I cannot in good conscience remain silent…
…As much as I love serving our great All-America City as mayor, it is more important for me to be able to sleep with a clear conscious and to fight the fight that needs to be fought at this pivotal time.
While I am willing to fight that fight, I am not willing to put our city through the ugliness of the mayoral campaign that will follow, as has already begun by ne'er-do-wells on social media.
I will forgo seeking re-election and over the next 95 days I will work diligently to help elect Joe Biden President of the United States.
Diamondhead Mayor Tommy Schafer died Friday following complications from surgery on July 21. He had been hospitalized in serious condition for the last 10 days.
Mayor Schafer leaves behind his wife, Camille, and one daughter, Caroline.
Schafer holds the honor of being Diamondhead's first mayor, having been elected in 2013 after the community incorporated. He was re-elected for a second term in 2017.
Former state representative Gene Saucier dies
Several judges are being appointed to help Mississippi courts with backlogs of cases that have developed during the coronavirus pandemic.
As many as 30,000 court cases might have been affected by temporary shutdowns and other limits imposed on the state's courts to try to limit the spread of the virus, the state Supreme Court said in a news release.
The high court announced some appointments of special judges Friday. They are for Hinds County Court; Warren County Court; the 21st Circuit Court District in Holmes, Humphreys and Yazoo counties; and the 16th Chancery Court District in Jackson, George and Greene counties.
Senate approves Gold Star families week resolution authored by Sen. Hyde-Smith
Senate approves Gold Star families week resolution authored by @SenHydeSmith #mssen READ MORE>> https://t.co/Uj6IMGE4nd

— Yall Politics (@MSyallpolitics) July 31, 2020