Mississippi State Board of Election Commissioners met Tuesday morning to certify the November General Election ballot. Governor Tate Reeves, Secretary of State Michael Watson and Attorney General Lynn Fitch serve as the state's Election Commissioners.
Reeves, Watson, and a representative for Fitch vetted the qualifications of the candidates to ensure all met the legal requirements to be on the ballot.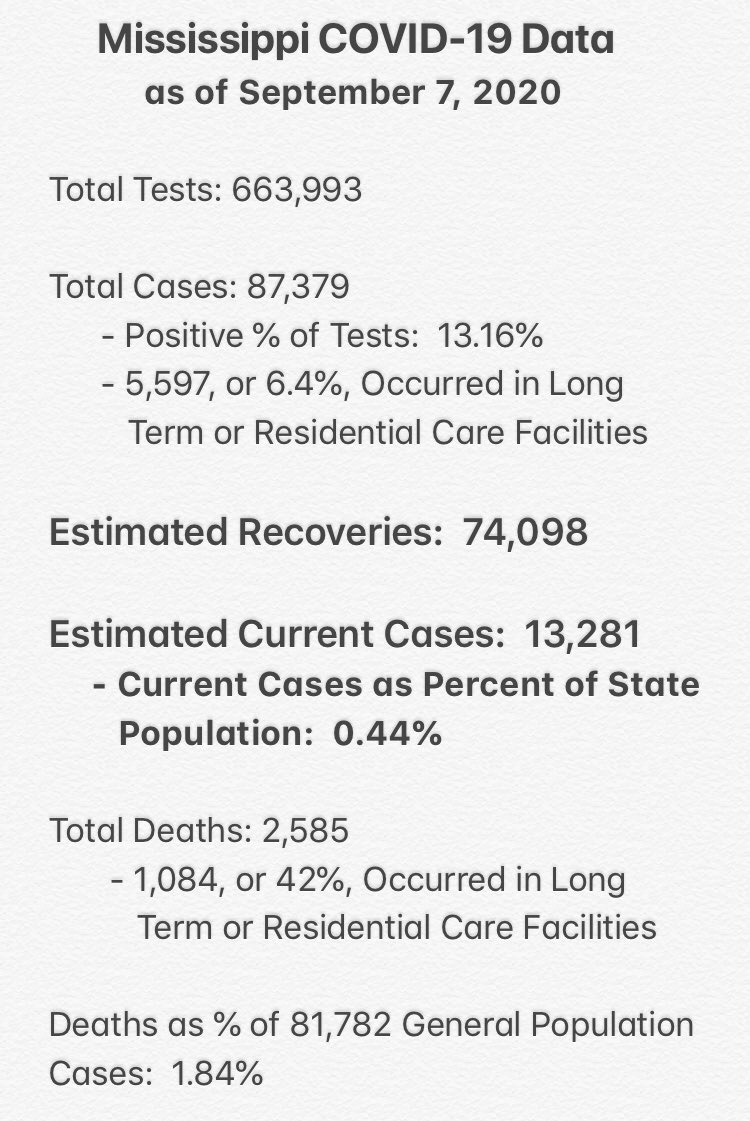 One number that does not receive much attention is the data on those persons who have recovered from the virus. MSDH does list the number of the Estimated or Presumed Recovered near the bottom of their COVID-19 Overview page. On Tuesday, that number was 74,098. Using that data, that means Mississippi has just over 13,000 confirmed cases of COVID-19. That reality in reporting tells quite a different story than the total case numbers Mississippians see rolled out on a daily basis.
Using the difference between the total cases and the presumed recovered, that means, on average, there are 162 cases per county in Mississippi, or 0.44% of the general population of the state is confirmed to have COVID-19…
…The total deaths in Mississippi attributed to COVID-19 are 2,585. However, 42%, or 1,084, of the deaths reported are identified from long term or residential care facilities. This means 1,501 COVID-19 related deaths occurred within the general population in Mississippi.
MSDH COVID-19 daily report
Today MSDH is reporting 426 more cases of COVID-19 in Mississippi, 39 deaths, and 146 active outbreaks in long-term care facilities. The total of #covid19 cases for the year is now 87,805, with 2,623 deaths. Case details and prevention guidance at https://t.co/QP8mlJ41AN pic.twitter.com/L3dDwpHn1h

— MS Dept of Health (@msdh) September 9, 2020
Tuesday, State Auditor Shad White's office released the first report on where the Coronavirus Aid, Relief and Economic Security Act ,"CARES Act," dollars have landed in Mississippi.
YOU CAN READ THE FULL REPORT HERE
The Legislature took on the task of appropriating the $1.25 billion from the Coronavirus Relief Fund that the state received from the federal government, spreading it throughout state agencies.
Gov. Reeves congratulates Snyder on leadership selection
Congratulations to Director Snyder on his well-deserved selection to the Medicaid Leadership Institute! Medicaid directors from only 6 states were selected for the program. Thanks @SnyGuy for your leadership and the great work being done at @MSMedicaid! https://t.co/xijILdwunt

— Tate Reeves (@tatereeves) September 9, 2020
Mississippi's Democratic US Senate nominee Mike Espy took to Twitter Wednesday and chided "Democratic party leaders" about the lack of support his campaign has received. He went on to blame the lack of support due to Espy's race saying, "They don't think a Black man in Mississippi can win – and they continue to count out the South and Black voters."
There was similar griping in 2018. Espy only garnered $2 million from the DNC in 2018 pre-election versus Republicans that over $8 million in Mississippi. Espy ran alongside David Baria, who is white, at the time. Espy lost to Hyde-Smith by over seven points. Baria lost to Roger Wicker by 20 points. Y'all Politics had polled that race at Wicker +21.
YP – Wicker, Hyde-Smith recommend MS judicial confirmations
Sen. @SenatorWicker, @SenHydeSmith Recommend Confirmation of President @realDonaldTrump's Mississippi Judicial Picks #mssen READ MORE>> https://t.co/kyOi4mqpJg

— Yall Politics (@MSyallpolitics) September 9, 2020
YP – Guest signs letter urging action to protect unborn
Congressman @RepMichaelGuest Signs Letter Urging Action to Protect Unborn Life #ms03
READ MORE>>https://t.co/L0hDrCj3JZ

— Yall Politics (@MSyallpolitics) September 9, 2020
YP – Wicker wants changes in intercountry adoptions
.@SenatorWicker Decries "Clear and Consistent Bias" Against Intercountry Adoptions at U.S. State Departmenthttps://t.co/fS4tAgo1to

— Yall Politics (@MSyallpolitics) September 9, 2020
Thirty-four states across the fruited plain have legalized medical marijuana. In less than two months, voters will decide if Mississippi is number 35.
Initiatives 65 and 65A were the topic of discussion Wednesday in Gulfport. Medical Marijuana 2020′s campaign is moving across the state to discuss what the two options on the November ballot mean…
…Even as an elected, political figure, Ocean Springs Mayor Shea Dobson has been vocal about his support for Initiative 65.
"This is one of those instances where I think we need to recognize that the people believe in one thing and the politicians believe in another. I'll always stand with the people over the politicians. It's as simple as that," Dobson said. "This is one of those issues where you need to stand on principles and you need to stand on your convictions. When I say that government should get out of healthcare, I mean it. I'm going to support (Initiative 65) regardless of how controversial of a topic because I believe in my philosophy and I believe in this initiative."
WJTV – Mississippi leaders appeal absentee vote ruling