Vice Presidential Debate Tonight between Pence, Harris
Vice President Mike Pence and Democrat VP nominee Senator Kamala Harris are set to meet in Utah for the only vice presidential debate of this election cycle.
The debate is being held at the University of Utah's Kingsbury Hall in Salt Lake City. It begins at 8pm CT.
Susan Page, USA Today's Washington bureau chief, will moderate the debate.
Pence and Harris will be seated across from each other, separated by plexiglass which was installed on Tuesday.  The Biden-Harris campaign asked for the plexiglass and other safety measures in response to the recent cases of COVID-19 reported in the White House.
The Mississippi Secretary of State has issued a release stating that as of Sunday, October 4, 2020, the Statewide Election Management System (SEMS) reported a total of 66,495 absentee ballots requested, 61,367 absentee ballots sent, and 34,561 absentee ballots received in the state of Mississippi for the 2020 General Election.
The requested total reflects the number of Mississippi voters who have requested an absentee ballot through their local Circuit Clerk's Office.
The sent total reflects the number of absentee ballots sent to voters from Circuit Clerk Offices.
The received total reflects the number of completed absentee ballots returned to Circuit Clerk Offices.
Hurricane Delta loses some steam, still a major storm
All eyes will undoubtedly be on both candidates as President Trump is battling coronavirus, and critics have raised concerns about Joe Biden's ability to lead the country. Mississippi Congressman Michael Guest (R-MS) tells me he wants Pence and Harris to address the same issues Trump and Biden debated last week, like the Supreme Court and funding for law enforcement. Guest and fellow Republican Congressman Steven Palazzo (R-MS) believe the debate will help some undecided voters pick a candidate. They both feel Pence's thoughtful demeanor will help him succeed in the debate.
"He is someone who takes great deal of thought before he speaks…when you contrast the President and Vice President, particularly their demeanors, they are very different. But I believe it's a match made in heaven," said Guest.
"I know him, his family and his heart. They have sacrificed and served our nation honorably for years, and he's going to come in and you're going to see the Vice President cool, calm and collected," said Palazzo.
MSDH daily COVID-19 report
— MS Dept of Health (@msdh) October 7, 2020
For the second year in a row, the Mississippi Public Service Commission has named Atmos Energy a "Mississippi Champion" for their one-hundred percent employment rate under the Commission's Hire Mississippi Rule.
The goal of Hire Mississippi is to increase Mississippians' access to utility contracts, create a more transparent and open bid process, boost economic development and increase employment in the state. The Hire Mississippi Rule requires aggressive notification and reporting by the state's rate-regulated, investor-owned utilities so they can reach and award contracts to more Mississippi contractors. In the event an out-of-state firm is selected for a project, the company must explain that decision.
The Public Service Commission honored @AtmosEnergy for their commitment to hiring #Mississippi contractors and increasing employment in our State. Thank you, Atmos! #HireMS #MississippiChampion pic.twitter.com/6TBQdcTUD9

— Delbert Hosemann (@DelbertHosemann) October 6, 2020
The Mississippi State Fair may look different this year, but don't expect to see everyone wearing a mask.
Organizers say masks will be encouraged and offered at entrances, but will not be required.
"Wearing a mask is a matter of personal preference," Commissioner Andy Gipson said in a statement Tuesday. "We strongly encourage fairgoers to bring a mask in case they are not able to socially distance."
Anti-Trump "Lincoln Project" backs Espy
There's a real chance to defeat @cindyhydesmith and Trumpism in Mississippi. Mike Espy will be the one to do it, but he needs your help.

1. Follow @MikeEspyMS
2. Retweet this tweet pic.twitter.com/UafBcGAPNa

— The Lincoln Project (@ProjectLincoln) October 4, 2020
The new commissioner at the Mississippi Department of Public Safety has been at the post for 120 days now. And he has already made some changes.
A lot of people have those dreaded stories from the drivers license station.
"Used to you'd come and sit for hours on end and sometimes wouldn't even get seen," said Duane Clark, who has been frustrated with previous experiences.
Sean Tindell set out to change this when he took on the role of commissioner of the Department of Public Safety.
Wicker receives National Guard Association honor
It is an honor to receive the Harry S. Truman Award for Distinguished Service in Support of National Defense from the @NGAUS1878. I have been proud to work alongside these service members and lend a listening ear as they fight for benefits they deserve. https://t.co/PWqRNEoPV4

— Senator Roger Wicker (@SenatorWicker) October 6, 2020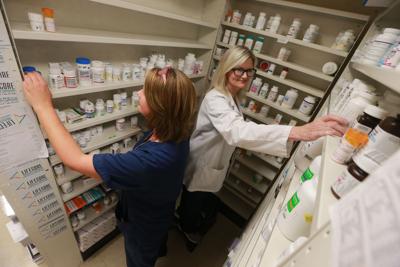 A federal judge overseeing the compliance of Mississippi's mental health care system with federal disability laws has questioned why a state agency has yet to fill a key position designed to help evaluate the state's mental health services.
During a Friday status hearing about ongoing litigation between the U.S. Department of Justice and the state of Mississippi regarding the state's community mental health centers, U.S. District Judge Carlton Reeves expressed concern that the Mississippi Department of Finance and Administration (MDFA) has not yet appointed someone as coordinator of mental health accessibility.
State lawmakers created the position of coordinator of mental health accessibility during this past legislative session to help evaluate the status of mental health services offered in Mississippi counties. The legislation passed with wide bipartisan support and gave MDFA 30 days from the time the bill became law to appoint someone.
Although the bill was signed into law in early July, the department still has not appointed anyone to the position.