Feedspot has released its list of "Top 100 Political Blogs & Websites on the Web," or what they call the "Best 100 Political Blogs on the Planet," and Mississippi's Y'all Politics is on the list.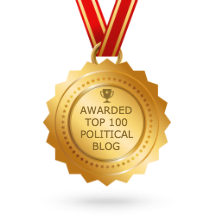 This Top 100 list is comprised of political blogs and websites not just in the United States, but around the world.
Y'all Politics is ranked 86 and is the only Mississippi based political news, analysis, and commentary blog listed. Feedspot ranks based on the following criteria: Google reputation and Google search ranking, influence and popularity on Facebook, Twitter and other social media sites, quality and consistency of posts, and Feedspot's editorial team and expert review.
Feedspot notes the Top 100 list is "the most comprehensive list of best Political blogs on the internet."
The top 10 on the Top 100 Political Blogs and Websites list are:
1. Politico
2. Think Progress
3. Daily Kos
4. New York Times – Politics
5. Reddit – Politics
6. The White House
7. Politicus USA
8. NewsBusters
9. MoveOn.org
10. The Gateway Pundit
You can view the list in its entirety by clicking here. http://blog.feedspot.com/political_blogs/
This isn't the first time Y'all Politics has been recognized for its work. Washington Post has recognized YP on multiple occasions as one of the best political sites out there.
Now firmly ensconced in our 13th year of for-profit, continuous daily operation, we'd like to thank our readers for another great year. We at Y'all Politics hope you and yours have a Blessed Christmas and a Happy New Year and we look forward to an exciting 2017.